EXCLUSIVE: Ferenc Török's drama explores postwar Hungary before the Communist take-over.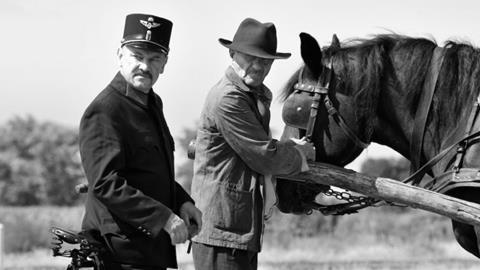 Menemsha has scheduled an October theatrical release for the recent world premiere that played in Panorama.
1945 takes place in the aftermath of the Second World War as two Orthodox Jews with mysterious boxes arrive in a Hungarian village where preparations are underway for a wedding.
The strangers trigger complex feelings among the villagers. Some feel remorse, while others harbour murderous thoughts.
Török wrote the screenplay with Gábor T. Szántó, whose acclaimed short story Homecoming formed the basis for the feature.
"It took 12 years to make this," Török said. "It's kind of a western, like High Noon. We wanted to find the link between post-Fascism and Communism. There were two or three years in Hungary when life could have changed. It was an interesting time.

"We shot in black and white but didn't want black and white thinking: we were looking for shades of grey in Hungarian society."
Katapult Film of Hungary produced 1945 and Hungarian Film Fund was a major financier.
Menemsha Films president Neil Friedman negotiated the deal with Hungarian National Film Fund World Sales.
1945 has been invited to play at several top-tier international festivals and will premiere in Hungary towards the end of April.
"Menemsha is important for me," the director continued. "I have a friend in the US [in Menemsha]. It's not an easy movie and we have a lot of work to do between now and October.
"We had a wonderful reception in Berlin and Panorama was a great platform. We had eight or nine screenings and won an audience award [1945 came third in the Panorama audience awards], which was a big present for us."
Friedman added: "Rarely does a film come along of this beauty and artistry as 1945. We feel very privileged to be distributing this unique and moving work."