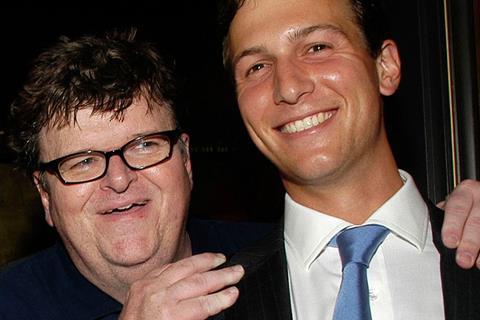 Following Thursday night's world premiere at TIFF of Fahrenheit 11/9, AGC International has announced a slew of deals on Michael Moore's politically charged documentary.
AGC Studios president of worldwide distribution Michael Rothstein and his team closed deals in the run-up to TIFF and shortly after the premiere.
Deals have closed in: the UK and Latin America (MGM), Germany (Weltkino), Spain (Dea Planeta), Scandinavia (Svensk), Benelux (Splendid), the Middle East (Salim Ramia), Japan (Gaga), South Korea (Noori Pictures), China and Hong Kong (Bravos Pictures), Switzerland (Ascot Elite), and Israel (United King).
AGC continues to field offers on remaining territories.
Fahrenheit 11/9 opened TIFF Docs and examines life in the US under president Trump, asking how the country got to where it is, and how it can get out.
"AGC are extremely excited to be working on Fahrenheit 11/9, along with a great group of our tried-and-true international distribution partners, and some new partners as well," said Rothstein,. "The film has an amazing story to tell, and each one of our distributors is poised to get the word out."
The film will open wide in North American on September 21 through Briarcliff Entertainment. It screens to press and industry today (September 7) and to the public on Saturday.