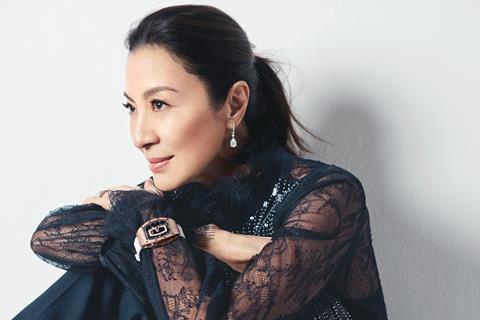 Michelle Yeoh, star of the summer's breakout $100m global hit Everything Everywhere All At Once, will receive the first TIFF Share Her Journey Groundbreaker Award.
The honour recognises a woman who is a leader in the film industry and has made a positive impact for women throughout their career.

Yeoh, whose storied career thus far has seen her star in such films as Crouching Tiger, Hidden Dragon, Memoirs Of A Geisha, Sunshine, Crazy Rich Asians, Shang-Chi And The Legend Of The Ten Rings, Tomorrow Never Dies, will collect the award at the in-person gala fundraiser on September 11.
"Michelle Yeoh is the definition of groundbreaking," said Cameron Bailey, TIFF CEO. "Her screen work has spanned continents, genres and decades. This year she delivered a performance in Everything Everywhere All At Once that shows her limitless abilities. We're so proud to honour her with the Share Her Journey Groundbreaker Award."
The award is presented by Bvlgari. TIFF's Share Her Journey initiative was established to address gender parity in the film industry, champion women and shine a spotlight on women creators making "a significant difference" in the industry.
Yeoh joins the recently announced roster of 2022 TIFF Tribute Award honourees, which includes Icelandic composer Hildur Guðnadóttir, Sally El Hosaini, Brendan Fraser, Sam Mendes, and the ensemble of My Policeman.
TIFF takes place from September 8-18.