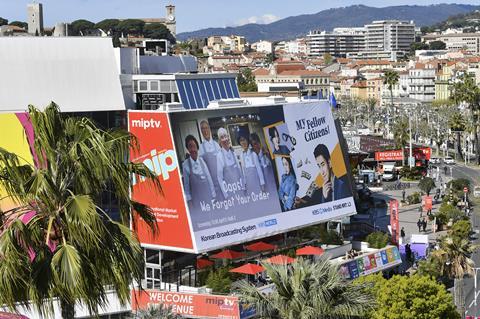 The 2020 edition of MIPTV, due to take place March 30-April 2 in Cannes, has been cancelled this year due to coronavirus concerns. MIPDoc and MIPFormats, programmed for March 28-29, have also been cancelled.
The third edition of Canneseries, set to run parallel to MIPTV, has been postponed to October 9-14, alongside MIPCOM. Screen has confimed that as of today, TV event Series Mania is still going ahead as planned from March 20-28 in Lille, France.
MIPTV organisers Reed MIDEM said last week they had been hopeful of going ahead on the original dates, but a spate of new infections in France, and the recent ban on gatherings of more than 5,000 people, appears to have forced their hand.
In a statement, Reed MIDEM chief executive Paul Zilk said, "In the current context, many of our clients have expressed concerns about travelling at this time. Rescheduling MIPTV in the coming months is not feasible, so the most appropriate course of action is to cancel MIPTV for 2020."
"The well-being of our clients, partners and staff is our priority. We are grateful to clients for their support and constructive input during this challenging period. We look forward to welcoming everyone to MIPCOM in October 12-15 and we are delighted that CANNESERIES will be at our side again this year".

The next edition of MIPTV will take place April 12-15, 2021, with MIPDoc and MIPFormats set for April 10-11, 2021. The fourth edition of Canneseries will run in April 2021 during MIPTV.
This year's 34th edition of the Fribourg International Film Festival (FIFF) in Switzerland has been cancelled. The event was scheduled to run from March 20-28. It is understood the FIFF team is working on an alternative format that might make it possible to screen parts of the 2020 programme over the course of year.