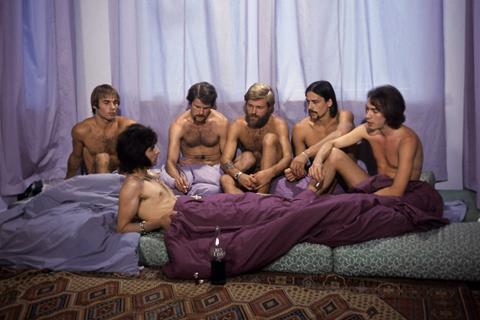 Berlin-based Missing Films has secured international sales rights and German distribution rights to a brace of seminal LGBTQ features by award-winning German filmmaker Rosa von Praunheim.
They include the landmark drama-documentary It Is Not The Homosexual Who Is Perverse, But The Society In Which He Lives, which debuted at the Berlin International Film Festival in 1971 and triggered the modern gay liberation movement in Germany. The second title is the romantic drama The Bed Sausage, which has never been distributed outside of Germany.
The pick-ups come ahead of von Praunheim's 80th birthday in 2022 and join other titles by the filmmaker on Missing Films slate such as documentary-fiction film hybrid Friendship of Men from 2018 and thriller Darkroom, which screened at Filmfest Hamburg in 2019.
Christos Acrivulis, co-founder of missingFILMS, was at the Filmfest Hamburg this week with two releases set to be released by its distribution arm: Nathalie David's documentary Harald Naegeli - The Sprayer Of Zürich, which is screening in Hamburg's Kaleidoscope section and is one of the titles selected for the Sichtwechsel Film Award; and Romanian theatre director Eugen Jebenleanu's feature debut Poppy Field, which will be released in German cinemas in spring 2022.
Acrivulis said the company has boarded David's film as the German distributor before production had started and he had secured the German rights to Poppy Field ahead of its world premiere at the Tallinn's Black Nights Film Festival in 2020.