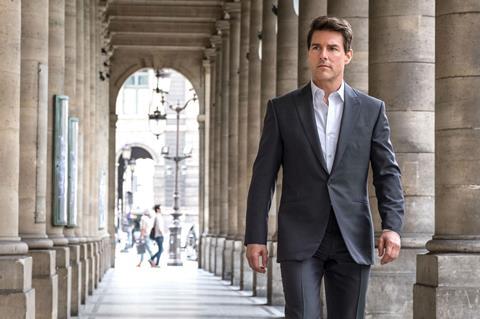 In the latest blow to exhibition, Paramount and Skydance have postponed the release of Mission: Impossible 7 and 8 due to delays caused by the ongoing pandemic and pushed the seventh instalment from September 30 of this year to July 14 2023.
It is yet another schedule move for Mission: Impossible 7, which was originally set to open back in April 2020 at the onset of Covid-19 only to get shunted to December of that year. It was subsequently moved to November 2021 and then to May of this year.
Mission: Impossible 8 meanwhile had been set for July 7 2023 and will now open on June 28 2024. It is understood the current surge on top of infection levels last year that impacted the production schedule have delayed post-production. The companies said the delay came after "thoughtful consideration" and they looked forward to "providing moviegoers with an unparalleled theatrical experience".
At time of writing Paramount's other Tom Cruise tentpole Top Gun: Maverick remained set for a May 27 Memorial Day weekend release this year. Paramount has opted for exclusive theatrical releases of its tentpoles as is the case with the current number one North American release Scream. The horror reboot stands at $37.5m in North American heading into its second weekend, and $54.9m worldwide.
In other scheduling announcements Paramount has set Untitled A Quiet Place, previously dated March 31 2023, for September 22 2023. The Godfather 50 Years will open next month on February 25; Blazing Samurai on July 22 of this year; and Secret Headquarters moves up from August 12 of this year to August 5.
Teenage Mutant Ninja Turtles Animated moves up from August 11 2023 to August 4 2023; Untitled Transformers Animation will open on July 19 2024; and Under The Boardwalk, previously set for July 22 of this year, has been removed from the schedule.
Separately, Skydance Media has struck a multi-year, first-look deal with Apple Original Films to develop, produce and distribute an annual slate of live-action films.