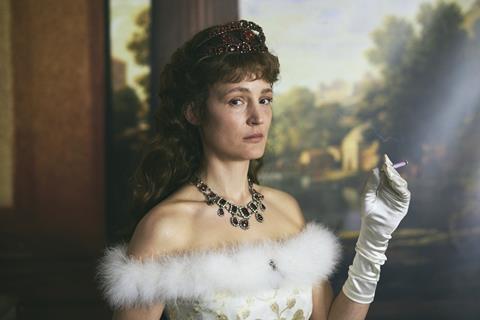 Paris-based sales company mk2 films has unveiled first deals on Austrian director Marie Kreutzer's buzzy costume drama Corsage ahead of its world premiere in Un Certain Regard on Friday (May 20).
The biopic stars Vicky Krieps as 19th-century Empress Elisabeth of Austria, affectionately nicknamed Sisi, as she turns 40 and starts to question the meaning of her life and status, which until has then revolved around her beauty and youth.
In early sales, it has sold to Italy (BIM), Benelux (The Searchers), Spain (Adso Films), Poland (M2), Czech Republic (Aerofilm), Hungary (Cirko) and Former Yugoslavia (Demiurg).
Ad Vitam will release in France.
The feature is reported to have gone down well with critics and buyers in pre-screenings, with Kreutzer's modern approach drawing comparisons with Sofia Coppola's 2006 work Marie Antoinette.
The film is produced by Alexander Glehr and Johanna Scherz of Vienna-based Film AG in co-production with Bernard Michaux, Luxembourg's Samsa Film, Germany's Komplizen Film and France's Kazak Productions.
Film AG produced Kreutzer's fifth feature, the contemporary drama The Ground Beneath My Feet which world premiered in competition at the Berlinale in 2019.