The Disney animation scored more social media buzz than Amma Asante race drama A United Kingdom, which premiered last week.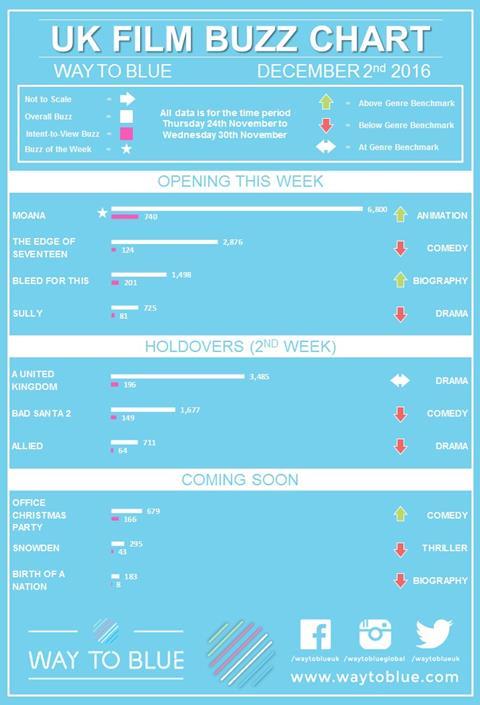 Moana, the latest Disney animated musical offering, topped this week's UK social media buzz chart, according to marketing firm Way To Blue.
The Pacific Island-set film, featuring Dwayne "The Rock" Johnson and newcomer Auli'I Cravalho, amassed 6,800 comments across social media, news, forums and blogs this week.
Of those commenters, 11% expressed intent to view.
The second buzziest title of the week was Amma Asante's drama A United Kingdom, which premiered last week in the UK and will premiere in the US in February. The feature, starring David Oyelowo and Rosamund Pike, garnered almost 3,500 social media comments, 196 of which expressed intent to view.
A United Kingdom beat out opener The Edge of Seventeen, which amassed 2,876 comments, and fellow holdover Bad Santa 2, with 1,677 comments.
No other title this week recorded a signiciant number of comments, but social media buzz is growing for holiday comedy Office Christmas Party and political thriller Snowden, which premieres next week.