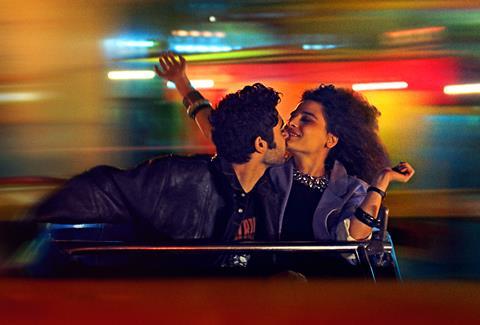 Eve Gabereau's Modern Films has acquired UK and Ireland rights to three dramas set to screen at the Berlinale's Summer Special and a title first seen at SXSW.
The London-based firm has picked up Memory Box, directed by Joana Hadjithomas and Khalil Joreige, from The Playtime Group; Anna Zohra Berrached's Copilot from The Match Factory; and Jacqueline Lentzou's Moon, 66 Questions from Luxbox
Modern Films has also added Leah Purcell's The Drover's Wife to its release slate, following its debut at SXSW, in a deal with Memento International. All are being lined up for theatrical release later this year.
Modern Films is known for championing diverse voices in cinema and all four titles are directed by women, and follow stories from distinct female perspectives.
The first three titles were seen at the Berlin International Film Festival's online, industry-only event in March and will screen at the public Summer Special festival, which takes place from June 9-20.
Memory Box, which played in Competition at the Berlinale is set over the Christmas period so is being lined up by Modern Films for release in November. The Lebanon-France-Canada-Qatar co-production revolves around a single mother and her teenage daughter who are confronted with the former's colourful but painful Beirut past when a box of old notebooks, tapes and photographs arrives on Christmas Eve.
German drama Copilot, which screened in the Berlinale's Panorama strand, is a fictionalisation of one of the hijackers in the 9/11 attacks, told from his wife's point-of-view. Modern Films is preparing to release the film in September, which marks the 20th anniversary of the attacks.
Greek drama Moon, 66 Questions played in the Encounters section of the Berlinale and marks the debut feature of Athens-born Lentzou. It follows a woman who returns home after several years to care for her sick father. When she discovers his long-held secret love story, it gives their father-daughter relationship a fresh start.
Also picked up by Modern Films, following its selection for SXSW, The Drover's Wife is the feature directorial debut of Australian actress and filmmaker Purcell, who also wrote the screenplay and takes the leading role in the film. The story centres on a lonely bushwoman who struggles to raise her children and run the family farm while her husband is away.
The deals follow a string of recent documentary acquisitions made by Modern Films, which included Laura Fairrie's Tribeca world premiere Lady Boss: The Jackie Collins Story; Mark Cousins' Sheffield Doc/Fest closer The Story Of Looking; Julien Faraut's 1964 Olympics story The Witches of the Orien; and Bill Benz and Carrie Brownstein's The Nowhere Inn, which revolves around musician St. Vincent.