Director re-imprisoned over the weekend in notorious Evin jail.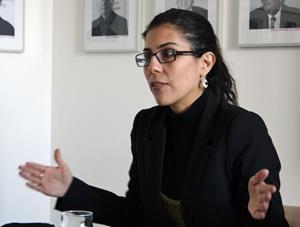 Concerns are growing for Iranian filmmaker and women's rights activist Mahnaz Mohammadi following reports she started a five-year jail sentence in Iran's notorious Evin prison on the outskirts of Tehran last weekend.
The filmmaker was given a five-year prison sentence earlier this year on charges of being involved in "a plot against state security" and producing "propaganda against the government".
She was first arrested in July 2011 on charges linked to her work with the Western media outlets such as the BBC, Al Jazeera, Radio France and Voice of America. She was imprisoned briefly before being placed under house arrest.
There has been no official statement on her incarceration in Evin but sources close to the filmmaker in Paris say she was taken into custody on June 7.
The French Directors Guild (SFR) launched a petition on Thursday [June 12] calling for Mohammadi's release.
"We are greatly concerned to learn that Mahnaz Mohammadi was incarcerated in Evin on June 7," guild co-presidents Pascale Ferran, Katell Quillévéré et Christophe Ruggia said in a joint statement.
"We denounce this attack on the freedom of expression and creativity of filmmakers in this country."
Early signatories of the petition include directors Chantal Ackerman, Solveig Anspach, Yvan Attal, Xavier Beauvois, Lucas Belvaux, Julie Bertuccelli, Stéphane Brizé, Laurent Cantet, Agnès Jaoui, Bertrand Tavernier and Danièle Thompson.
Mohammadi's work includes the short documentary Woman without Shadows about the plight of incarcerated mentally handicapped women incarcerated.
She previously fell foul of the authorities in Tehran for her involvement in celebrated filmmaker Rakhshan Bani-Etemad's on We are Half of Iran's Population capturing the everyday lives of Iranian women and a campaign for female suffrage in the lead up to the 2009 presidential elections.
She was refused permission to attend the Cannes Film Festival in 2011 for the screening of Reza Serkanian's Marriage Ephemeral in which she was the lead actress.
In a statement read out on her behalf at the festival, Mohammadi said: "I am a woman, I am a filmmaker, two sufficient grounds to be guilty in this country.
"I am currently directing a new documentary about the women of my country. The struggle of woman for their identity is an essential element of their everyday life… and freedom is the word that is most missing from their daily life."