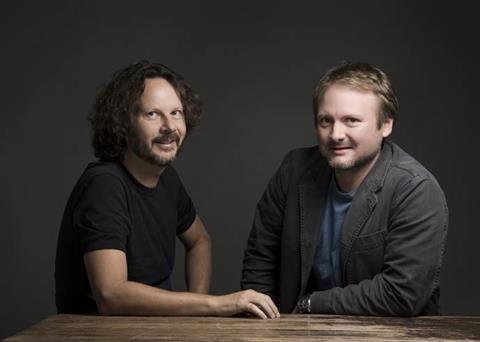 MRC Film and T-Street, the company launched by Rian Johnson and Ram Bergman that recently struck a $400m+ deal for two Knives Out follow-ups with Netflix, have launched a label for emerging filmmakers with a distinctive point of view.
The new venture was unveiled on Thursday (April 29) by MRC Film co-presidents Brye Adler and Jonathan Golfman and Johnson and Bergman. T-Street's Ben LeClair will oversee day-to-day management.
The label's goal is to make three to four commercially-oriented films a year at modest budgets and with distribution flexibility.
The two companies intend to be fully involved and will support filmmakers with their collective resources and infrastructure.
Johnson and Bergman formed T-Street in 2019 and has minority investment from MRC with a film and TV first-look deal.
T-Street is developing an adaptation of bestseller Three Body Problem for Netflix, and will produce Poker Face with Natasha Lyonne with MRC Television for Peacock.
MRC Film is the division of MRC, whose credits include Knives Out andTed, Babel, the second and third instalments of Hotel Transylvania, and 22 Jump Street. Upcoming projects include The Mothership starring Halle Berry at Netflix.
Adler and Golfman said "MRC and T-Street have always had the shared value of wanting to create environments that allow artists to make creatively ambitious movies that can break out commercially. Providing this support and opportunity to filmmakers early in their career is the natural extension of this mission."
"We've experienced the importance of having partners like MRC who understand and protect a filmmaker's vision, and that becomes all the more crucial when you're navigating these waters for the first or second time," said Johnson and Bergman
"For us, this is about finding and working with great people as much as it is about making great films."
T-Street is represented by CAA and attorney Stephen Clark.