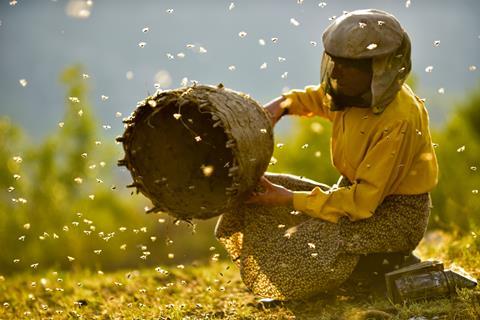 NEON has acquired North American rights to the documentary Honeyland in its fifth Sundance acquisition.
The film by Macedonian filmmaking duo Ljubomir Stefanov and Tamara Kotevska follows Park City buys on Monos, The Lodge, Little Monsters, and Luce.
Honeyland won three jury prizes for World Cinema Grand Jury Prize: Documentary, World Cinema Documentary Special Jury Award for Cinematography, and World Cinema Dramatic Special Jury Award for Originality.
The film follows Hatidze Muratova, a Balkans beekeeper whose peaceful existence is thrown into disarray by the arrival of a noisy itinerant family.
"Honeyland began as just another simple story, but it grew to become so much more," said Stefanov and Kotevska. "We are so proud of the final film, and there is no better way to get immersed in it than to experience it on the big screen. Thank you, NEON, for the opportunity to bring Honeyland to audiences the way we always wanted it to be seen."
Atanas Georgiev produced. Submarine brokered the deal with NEON.