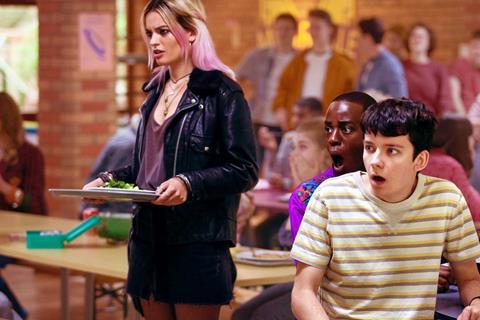 Netflix is investing in various training initiatives to build the production community in the UK as part of its plan to double down on UK TV originals this year.
The streaming service's UK commissioner Alex Sapot said on Tuesday she wants to order more original series from the country following a round of high-profile hires including Sky's Anne Mensah and ex-Channel 4 exec Lucy Leveugle.
"We recognise the vast pool of talent here so we would love to be in business with those storytellers," Sapot said, speaking at a screening of Eleven Films' comedy drama Sex Education, which lands on Netflix tomorrow.
The platform, which made 40 productions in the UK in 2018, is looking to build a sustainable pool of production staff across the country. It put together a training scheme to find local talent in Penarth in South Wales, where Sex Education was filmed.
The ambition is to transition those who took part in the training and work experience scheme, which included various production roles, to fill full-time roles for the second series of the comedy drama.
"Part of the ethos at Netflix is finding new talent and the only way to do that is to give people experience," Sapot said.
Sex Education features a slew of emerging TV talent. It is writer and creator Laurie Nunn's first greenlit series, and marks the first full-length TV show for director Kate Herron, a former Broadcast Hot Shot.
The eight-part series follows 16-year-old Otis Thompson, a socially awkward high school virgin who lives with his mother, a sex therapist. After realising he is a reluctant expert on sex, Otis teams up with fellow student Meave to set up an underground sex therapy clinic.
Sapot, who commissioned the series, praised its universality of the high school theme with the specificity of the UK setting and culture.
"One of the fallacies about making something for a global audience is that you have to make it feel commercial or non-specific," she said. "I think the opposite is true - the culture is what makes it distinctive and feel original." It is risky and bold," she added.
A writing room has already been set up for a second series, with the plan to go back into production in April or May should the first series land with viewers.
The platform also launched a diverse directors scheme for Top Boy, drafting in four up-and-coming directors to shadow the show's director for eight weeks each.
Cowboy Films' crime drama, due for launch this year, previously ran for two series on Channel 4.
This story first appeared on Screen's sister site Broadcast