Stars align as streaming giant eyes its latest notable acquisition target.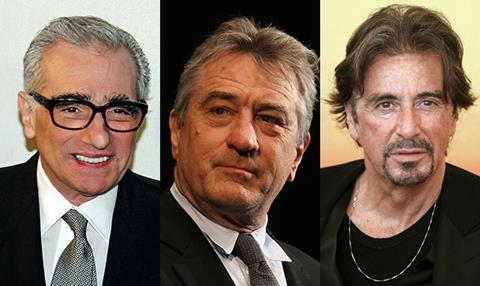 In what was shaping up on Tuesday night to be a significant development, the digital titan was understood to be closing in on Martin Scorsese's upcoming mob feature.
According to insiders, Netflix is negotiating to acquire worldwide rights to The Irishman in a deal believed to be in the $100m range.
It is understood the budget has shot up as Scorsese plans to use costly effects to render a younger version of his cast, which includes old collaborator Robert De Niro.
STX International reportedly paid $50m last summer for international sales rights, while Paramount currently holds US rights.
However the studio's leadership issues may have weakened its hand, and disappointing US box office on Scorsese's erstwhile awards hope Silence will have given Netflix further ammunition in a bid for all rights.
Furthermore the role of Gaston Pavlovich, the film's Mexican producer-financier of Silence who runs Fabrica de Cine and boarded The Irishman last year, remained unclear at time of writing.
If a worldwide deal is consummated, STX International would be forced into the unenviable position of having to undo any prior international transactions on The Irishman.
Similar situations have arisen on other films involving international deals cut by sales agents when Netflix has decided to take worldwide rights off the table.
The Irishman is expected to be ready in 2019 and if the execution is spot-on and the film becomes a potential awards contender, the question remains as to how aggressively the digital titan will support a campaign and mount a meaningful theatrical release.
Netflix's brief and cursory release for Beasts Of No Nation is cited by some observers as a reason why Idris Elba did not receive a best supporting actor Oscar nomination in 2016.
The Irishman's budget puts it in a different league from the African civil war drama, and illustrates how Netflix is willing to take a punt on expensive projects that would make most traditional studies baulk.
Neither STX, Pavlovich or Paramount could be reached at time of writing. Indiewire broke the news.