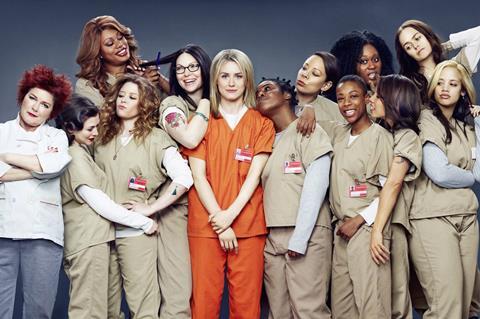 Netflix's aggressive original content strategy backed by its notorious spending power has led to total domination of the original digital show space in Spain over a portion of the summer.
Information compiled by Los Angeles-based data science specialist Parrot Analytics over the period July 15-August 13 shows the streaming platform accounted for the top 10 most in-demand shows.
However the top show on the list, Orange Is The New Black, ranks eighth in a broader roster of desire for shows originating on any platform, demonstrating that digital originals still have some way to go before they usurp the old order.

According to the company's Demand Expressions metric, which gauges total audience demand for a show within a particular country, Orange Is The New Black was the most desired show that originated exclusively online.
The prison drama series scored 2.57m average Demand Expressions, reflecting the online desire, engagement and consumption of content. The score is weighted by importance so that a stream or download represents a higher expression of demand than a 'like' or a comment.
In second place on 2.36m was Stranger Things, followed by Sense8 on 1.77m. The show has been discontinued by Netflix and will not return for a third season.
Narcos and Cable Girls, the period romance and Netflix's first original production in Spain, round out the top five on 1.73m and 1.71m, respectively.
These two titles are among three Spanish-language originals in the top 10, the other being crime drama Ingobernable starring Mexican icon Kate del Castillo as the Mexican First Lady who goes on the run after she is accused of murdering the president.
Turning to shows that originated on any platform, HBO's Game Of Thrones leads the way on 12.2m average Demand Expressions, followed by Telecinco's thriller Sé Quien Eres on 7.5m, History's Vikings on 4.7m, Freeform's teen mystery Pretty Little Liars on 4.6m, and AMC's The Walking Dead on 4.6m.
Once again US English-language imports claim the lion's share with seven titles in the top 10 alongside three Spanish-language titles.
Orange Is The New Black ranks eighth, revealing that, for now at least, digital originals lag some way behind TV shows in the popularity stakes.
TOP 10 DIGITAL ORIGINALS IN SPAIN
Show / Platform / Average Demand Expressions
Orange Is The New Black / Netflix / 2,567,581
Stranger Things / Netflix / 2,361,345
Sense8 / Netflix / 1,768,335
Narcos / Netflix / 1,732,135
Cable Girls / Netflix / 1,708,260
House Of Cards / Netflix / 1,533,039
13 Reasons Why / Netflix / 1,532,944
Ingobernable / Netflix / 711,967
Castlevania / Netflix / 636,611
Marvel's Daredevil / Netflix / 620,345
TOP 10 OVERALL SHOWS IN SPAIN
Show / Platform / Average Demand Expressions
Game Of Thrones / HBO / 12,059,911
Sé Quien Eres / Telecinco / 7,512,020
Vikings / History / 4,718,973
Pretty Little Liars / Freeform / 4,618,162
The Walking Dead / AMC / 4,558,832
Fear The Walking Dead / AMC/ 3,094,683
La Casa De Papel / Antena 3 / 3,068,329
Orange Is The New Black / Netflix / 2,567,581
Alli Abajo / Antena 3 / 2,544,301
Z Nation / Syfy / 2,383,497