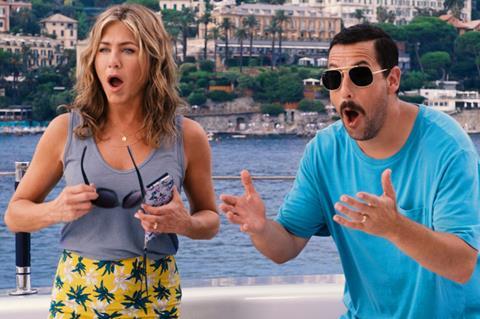 Netflix added only 2.7m paid memberships globally in the second quarter of 2019, well short of the 5m additions the streaming giant had forecast for the period, and less than half the 5.5m new subscribers who signed up in the second quarter of 2018.
The 2.7m overall gain came through the addition of 2.8m members in international markets but the loss of 130,000 in the US.
Netflix now has 60.1m paid streaming subscribers in the US and 91.5m in the international marketplace, for a global total of 151.56m.
In its letter to shareholders released on Wednesday (17) with second quarter financial results, the company attributed the figures not to increased competition but to a content slate that "drove less growth in paid net adds than we anticipated."
Netflix's revenue for the quarter, however, was up 26% on the previous year's second quarter to $4.9bn, and operating income jumped from $462m to $706m. And the company predicted that in the third quarter its global paid net additions will be 7m – up from 6.1m on the previous year's quarter - with 800,000 subscribers coming from the US and 6.2m internationally.
Third quarter growth will be boosted, Netflix suggested, by the third season of Stranger Things, new seasons of La Casa de Papel (Money Heist), The Crown, and Orange Is The New Black, and films including Martin Scorsese's The Irishman.
In the second quarter, Netflix reported, dramedy series Dead To Me was watched by 30m households in its first four weeks and limited series When They See Us – just nominated for 16 Emmys – by 25m households in four weeks. Adam Sandler movie Murder Mystery (pictured) was watched by more than 73m households in its first four weeks, Netflix said, and The Perfect Date by 48m.
Netflix acknowledged that as the streaming war heats up over the next few years it will lose content – it is losing Friends and The Office and much of its Disney content – to the new services affiliated to the Hollywood studios. But the service said that would free up budget for more original content. "From what we've seen in the past when we drop strong catalogue content…our members shift over to enjoying our other great content."
The streamer also insisted that speculation about it changing its business model to include ad-supported programming "is false."