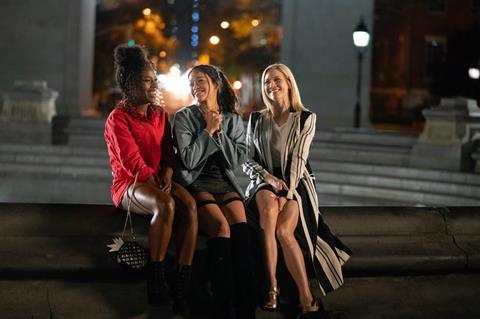 Netflix is to open a production hub in New York that expands the streaming giant's presence in Manhattan and will feature new six sound stages in Brooklyn.
Announcing the hub, New York governor Andrew Cuomo said on Thursday (18) that Netflix's new corporate offices will occupy approximately 100,000 sq ft in Manhattan's Flatiron District and within five years create "127 high-paying executive content, marketing and production development jobs" in addition to the 32 employees who currently work in New York.
Adding that the hub was expected to bring up to $100m in investment to the city, Cuomo said Netflix had leased approximately 161,000 sq ft in Brooklyn to build the sound stages and support spaces, which would hold thousands of production crew jobs within five years.
Netflix has produced in New York for a number of years, making such shows as Orange is the New Black, Someone Great (pictured) Russian Doll, Unbreakable Kimmy Schmidt, She's Gotta Have It, and Martin Scorsese's upcoming Mob drama The Irishman.
"Netflix is innovative, creative and bold – just like New Yorkers – and the expansion of this cutting-edge company in New York once again demonstrates the Empire State is open for business," the governor said. "We're proud Netflix chose New York to grow its business, and we look forward to the jobs, economic activity and world-class productions this project will bring."
Jason Hariton, director of worldwide studio operations & real estate at Netflix said, "New York has created a film-friendly environment that's home to some of the best creative and executive talent in the world, and we're excited to provide a place for them at Netflix with our production hub."
Empire State Development president, CEO and commissioner Howard Zemsky said of the announcement: "Thanks to Netflix, online streaming has become as commonplace as cable television, and maybe even more accessible – and their decision to expand in New York is a validation of our work to support and develop New York's technology, entertainment and production industries."
In support of the creation of 127 jobs at Netflix's corporate office in Manhattan, Empire State Development has offered up to $4m in performance-based Excelsior Tax Credits over ten years, which are directly tied to real job creation. To receive the full incentive, Netflix must create the 127 jobs by 2024 at its new executive production office and retain those new jobs and their existing 32 office jobs for another five years.
Thursday's announcement met with approval from the unions.