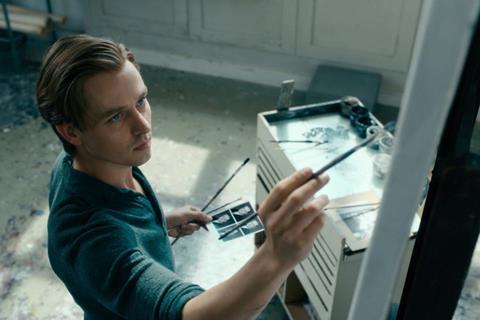 Film promotion agency German Films will support the foreign releases of 45 German films for a combined €348,360 ($390,897).
Among the films selected in the first 2019 sitting of its distribution support awards committee were Florian Henckel von Donnersmarck's Oscar-nominated Never Look Away, Marcus H. Rosenmüller's The Keeper, and Eva Trobisch's Munich winner All Good.
The next sitting will be held on April 30, 2019.
German Films' distribution support funding programme has existed since 2005, with a maximum of €50,000 ($42,946) allocated as conditionally repayable loan. Funding of up to €10,000 ($8,589) can also be allocated as a grant.
The full list of awards is below:
303 in South Korea (Distributor: BoXoo Entertainment, World Sales: Atrium Productions, Grant: €8,000)
100 THINGS in Croatia, Bosnia Herzegovina, Slovenia, Serbia (Distributor: 2i Film, World Sales: Picture Tree International, Grant: €7,000
CUT OFF in Russia (Distributor: Prestige Kino, World Sales: Global Screen, Grant: €8,000
ALL GOOD in France (Distributor: Wild Bunch Distribution, World Sales: Films Boutique, Grant: €10,000
BALLON in France (Distributor: ARP, World Sales: Studiocanal, Loan: €50,000
BALLON in Belgium, Luxembourg (Distributor: Cineart Belgium, World Sales: Studiocanal, Grant: €6,000
BALLON in the Netherlands (Distributor: Cineart Nederland, World Sales: Studiocanal, Grant: €10,000
CAPT'N SHARKY in Russia (Distributor: Rocket Releasing, World Sales: Global Screen, Grant: €7,000
THE SILENT REVOLUTION in Belgium (Distributor: Arti Film, World Sales: Studiocanal, Grant: €5,000
THE COLLINI CASE in Switzerland (Distributor: Praesens-Film AG, World Sales: Constantin, Grant: €3,000
COCONUT THE LITTLE DRAGON 2 - INTO THE JUNGLE in Estonia (Distributor: BestFilm.eu, World Sales: Caligari International, Grant: €3,000
COCONUT THE LITTLE DRAGON 2 - INTO THE JUNGLE in Romania (Distributor: Cine Europa, World Sales: Caligari International, Grant: €4,500
COCONUT THE LITTLE DRAGON 2 - INTO THE JUNGLE in Turkey (Distributor: Yeni Bir Film, World Sales: Caligari International, Grant: €8,000
FOUR HANDS in Spain (Distributor: Cinemaran, World Sales: ARRI Media, Loan: €25,000
FOUR HANDS in Columbia (Distributor: Cinemaran, World Sales: ARRI Media, Grant: €7,000
HEILSTÄTTEN in Argentina (Distributor: BF Paris, World Sales: A Company Hungary, Grant: €7,000
HEILSTÄTTEN in Peru (Distributor: BF Peru, World Sales: A Company Hungary, Grant: €6,000
HEILSTÄTTEN in Chile (Distributor: Commercializadora BF Limitada, World Sales: A Company Hungary, Grant: €6,000
ICEMAN in the US (Distributor: Film Movement, World Sales: Beta Cinema, Grant: €8,000
IN THE AISLES in Spain (Distributor: Surtsey Film, World Sales: Beta Cinema, Grant: €10,000
IN THE AISLES in Italy (Distributor: Satine Film, World Sales: Beta Cinema, Loan: €20,000
KIRSCHBLÜTEN & DÄMONEN in Switzerland (Distributor: Praesens-Film AG, World Sales: Constantin, Grant: €3,000
LITTLE MISS DOOLITTLE in Serbia, Slovenia, Bosnia Herzegovina (Distributor: 2i Film, World Sales: ARRI Media, Grant: €6,000
LITTLE MISS DOOLITTLE in Estonia (Distributor: Estinfilm, World Sales: ARRI Media, Grant: €3,500
LOMO: LANGUAGE OF MANY OTHERS in Poland (Distributor: Bomba Film, World Sales: Film Republic, Grant: €4,500
MARNIE'S WORLD in Russia (Distributor: Focus Film, World Sales: Global Screen, Grant: €10,000
MARNIE'S WORLD in Portugal (Distributor: Films4You, World Sales: Global Screen, Grant: €9,810
MY BROTHER'S NAME IS ROBERT AND HE IS AN IDIOT in France (Distributor: French Distribution, World Sales: L Films, Grant: €8,,000
STYX in the US (Distributor: Film Movement, World Sales: Beta Cinema, Grant: €10,000
STYX in the UK (Distributor: 606 Distribution, World Sales: Beta Cinema, Grant: €10,000
TRANSIT in the Ukraine (Distributor: Arthouse Traffic, World Sales: The Match Factory, Grant: €1,750
TRANSIT in Brazil (Distributor: Supo Mungam Films, World Sales: The Match Factory, Grant: €4,000
THE KEEPER in the UK (Distributor: Parkland Entertainment, World Sales: Beta Cinema, Loan: €50,000
NEVER LOOK AWAY in Spain (Distributor: Avalon DA, World Sales: Beta Cinema, Loan: €30,000
NEVER LOOK AWAY in the Czech Republic (Distributor: Cinemart, World Sales: Beta Cinema, Grant: €5,000
NEVER LOOK AWAY in Turkey (Distributor: Fabula Medya, World Sales: Beta Cinema, Grant: €8,000
NEVER LOOK AWAY in Israel (Distributor: Lev Cinemas, World Sales: Beta Cinema, Grant: €7,000
WHY ARE WE CREATIVE: THE CENTIPEDE'S DILEMMA in Turkey (Distributor: Filmarti Film, World Sales: Emotional Network, Grant: €7,000
WIE GUT IST DEINE BEZIEHUNG in Switzerland (Distributor: Filmcoopi Zürich, World Sales: Ralf Westhoff, Grant: €6,000