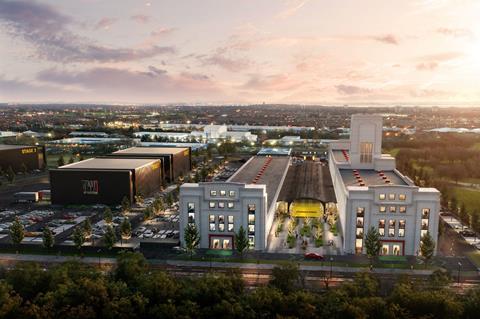 The fire at the iconic Littlewoods Pools building in Liverpool has not spread to the part of the site earmarked for a major film and TV facility.
The blaze broke out shortly before 20.00 (BST) yesterday (September 2) and is now under control, with no reported injuries.
Plans for Twickenham Studios' £50m facility located at in the east wing of the building were announced in June this year.
According to property developer Capital & Centric which manage the site, the fire damaged the west wing of the building, including the floor, roof and clock tower, but did not spread to the east wing or the central linking building.
It added it is "hopeful" the fire won't impact the proposed opening date of the Twickenham facility, which is provisionally set for 2020.
The site, named Littlewoods Studios, will feature two new 20,000sq ft sound stages alongside supporting workshops, wardrobe and prop storage, and offices.
The project is expected to generate more than 570 jobs and to support some 2,000 further jobs in the region, providing a boost of up to £124m to the local economy, according to statistics drawn up by economics firm Ekosgen.