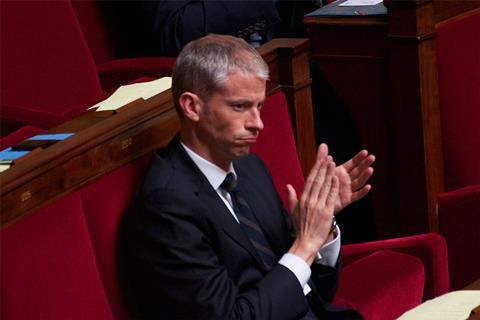 France has changed its culture minister for the fifth time in six years with Franck Riester being appointed to the role on Tuesday to replace outgoing Françoise Nyssen, who held the post for 17 months.
The new appointment was announced as part of a long-expected government cabinet reshuffle by embattled French President Emanuel Macron, following the resignation of one his key supporters Gerard Collomb to re-run for his former job as mayor of Lyon.
The appointment of Riester, who leans to the centre-right, is seen as an attempt by Macron to broaden the political bandwidth of his centre-left government ahead of European elections in 2019.
Riester is also a media and culture specialist, who brings deep expertise in key issues facing the French film and TV sectors, having specialised in communication and audiovisual legislation as a member of his former party, the centre-right UMP Party, which was relaunched under the banner of The Republicans in 2015.
He was also a rapporteur in the drawing up France's controversial Hadopi laws, aimed at protecting intellectual property and tackling online piracy.
In his new role, Reister will continue the work begun by Nyssen to overhaul France's public broadcasting system.
French media reported on Tuesday that he has expressed his interest in the past in creating a French-style BBC body, bringing together France Televisions, Radio France, France Media World and even Franco-German broadcaster Arte under one integrated entity.
Difficult post
Riester is the fifth person to take on the role of French culture minister in six years following on from Socialist President François Hollande appointees Aurélie Filippetti (2012), Fleur Pellerin (2014) and Audrey Azoulay (2016) and most recently Macron appointee Françoise Nyssen.
Appointed in May 2012, Filippetti left the role in under a cloud in August 2014 after she denounced culture budget cuts in an open letter and said she no longer wanted to participate in the government.
She was replaced by ambitious junior minister Pellerin, whose former medium-size businesses, innovation and the digital economy portfolio was seen as a plus in tackling the digital challenges facing the entire cultural sector.
Her reign was also short-lived after she was unceremoniously replaced by Hollande, with little warning in early 2016, to be replaced by Azoulay, in a move that is reported to have broadsided the departing minister.
Pellerin has since gone on to set up her own management consultancy agency and is also president of the Canneseries TV festival. Azoulay went on to become the director-general of UNESCO at the end of 2017.
Publishing world heavyweight Françoise Nyssen was seen as an inspired choice when Macron appointed her to the role in May 2017 but criticisms started to mount as she failed, like all the culture ministers before, to resolve the thorny issue of France's antiquated media window laws and also got caught up in the quagmire of reforming the public broadcast sector.
Her position was also weakened by a series of media stories around the fact that her publishing house had failed to get the proper building permits when expanding its premises. Some local media outlets said she her lacked the necessary charisma and experience in politics to push through change and make herself heard.
One of her big game-changing achievements while in office, however, was her introduction of financial incentives tied to National Cinema Centre (CNC) funding to help encourage more gender parity in the French film and TV sector.
France is one of the only countries in Europe to have introduced a financial incentive to boost the representation of women in its cinema industries.
The country's powerful cinema guild L'ARP welcomed Riester's arrival in the role of Culture Minister in a statement on Tuesday, at the same time as thanking outgoing Nyssen.
"His knowledge of the cultural industries will be essential as a new audiovisual law is put in place to re-calibrate our regulations to fit the digital age," the body said. "The filmmakers at L'ARP would also like to thank Françoise Nyssen for her actions in favour of French and European creation, and defence of values they hold dear: author copyright, cultural diversity and independence."