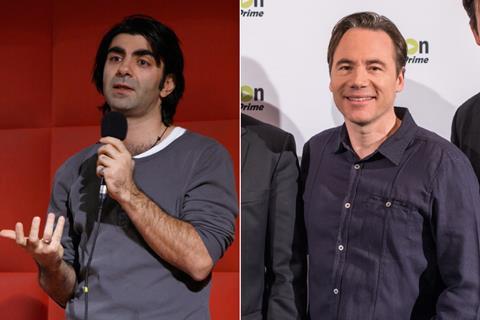 Fatih Akin's gangster drama Rheingold and Michael Bully Herbig's media satire 1000 Lines are among the new film projects to receive funding from Hamburg's Filmfoerderung Hamburg Schleswig-Holstein (FFHSH) and Medienboard Berlin-Brandenburg (MBB).
Akin's gangster biopic is based on the 2015 book Alles oder Nix by the German hip hop rapper and label boss Xatar. It received €700,000 – the largest single amount at last week's sitting of Hamburg's committee for high-end films and series with production budgets over €3.5m.
Akin's bombero international is producing the film which will be the third collaboration by the director with Warner Bros Germany, following The Fade and The Golden Glove.
FFHSH and MBB both allocated production funding totalling €1m to Michael Bully Herbig's 1000 Lines inspired by Juan Moreno's book A Thousand Lines Of Lies, which exposed how star reporter Claas Relotius made up stories for the prestigious German weekly magazine Der Spiegel.
Leading German actors Elyas M'Barek, whose credits include The Collini Case, and Jonas Nay, star of the Deutschland 83, 86 and 89 series, are attached to star in the UFA Fiction co-production with Warner Bros Germany and Feine Filme. It will shoot at locations in Munich, Berlin, Hamburg and Spain this summer.
Further projects supported by the Hamburg fund include Aron Lehmann's comedy Jagdfieber which sees him working again with the producer-distributor Tobis Film after his debut The Most Beautiful Girl in the World; Turkish filmmaker Nuri Bilge Ceylan's previously announced On Barren Weeds with Komplizen Film as the German co-producer, and Georg Tschurtschenthaler's five-part true crime series Fachdirektion 65 about the changes on the Reeperbahn in the 1980s, to be produced by Gebrueder Beetz Filmproduktion.
X Filme Creative Pool's sequel to the 2020 box office hit The Kangaroo Chronicles, Die Kaengaru-Verschwoerung, to be directed by the original book's author Marc-Uwe Kling, is among other projects awarded production funding by the Medienboard along with David Wnendt's adaptation Summer And Concrete, to be produced by Seven Elephants (the company behind Germany's Oscar entry And Tomorrow The Entire World), and Gaumont's TV series The Wasp, starring Florian, starring Florian Lukas and to be directed by Hermine Huntgeburth.