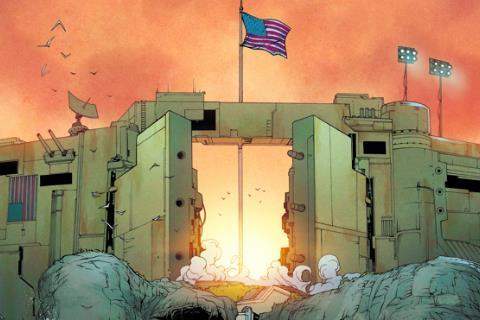 In what sources said was a competitive bidding situation, Brian Oliver's New Republic Pictures has paid seven figures for rights to the upcoming graphic novel Undiscovered Country and will develop it as a potential franchise.
Scott Snyder and Charles Soule wrote and Giuseppe Camuncoli served as series artist on the property, which was unveiled at CinemaCon in July ahead of its upcoming November launch through Image Comics.
Undiscovered Country takes place 30 years in the future in a territory once known as the United States that has been walled off after a global pandemic. Journeying into the interior, a diplomatic expedition in search of a cure is force to reckon with the truth about themselves and their mission as they traverse the strange land.
Snyder and Soule are attached to adapt the screenplay and serve as executive producers alongside Camuncoli. John Hilary Shepherd will oversee development for New Republic.
The project joins a New Republic development slate that includes The Creed Of Violence for Todd Field to write and direct; urban drama Green Rush produced with Will Packer; a remake of The Wild Geese based on a screenplay by William Monahan; and Zelda to star Jennifer Lawrence.
"We see this as the start of a franchise," said Oliver. "It's got a little something for fans of The Walking Dead, it's got a little something for fans of Mad Max. And we are thrilled to bring the first feature in this future world that Charles and Scott have created to the big screen."
"Undiscovered Country is a passion project for us, an epic journey across a vastly changed American landscape, and we're elated that it's found a perfect home in New Republic, a studio known for inspired, visionary and urgent films," said Snyder.
Soule added: "It's a huge story with massive ideas – truly suited for the big screen, and we've found the perfect partners with the ambition and drive to get it there."
New Republic is in post on Sam Mendes' First World War epic 1917, which it is co-financing and co-producing with Amblin Partners, and will open on December 25 through Universal Pictures.
Snyder has worked on DC Comics IP including Batman, Justice League and Swamp Thing, and has American Vampire set up at Warner Bros, Wytches at Plan B and New Regency, and After Death at Sony.
Soule's first novel The Oracle Year is in development as a TV series at TNT. Camuncoli has worked for DC Comics, Marvel and Image Comics, on titles such as Hellblazer, All-Star Batman, Amazing Spider-Man, and Darth Vader: Dark Lord Of The Sith.
Angela Cheng Caplan, Jack Mahan and Eric Feig negotiated the Undiscovered Country deal on behalf of Snyder, Soule and Camuncoli, with Michael Moskowitz of Manatt, Phelps & Phillips on behalf of New Republic.