The UK's National Film and Television School has launched a new bursary scheme for its screenwriting students.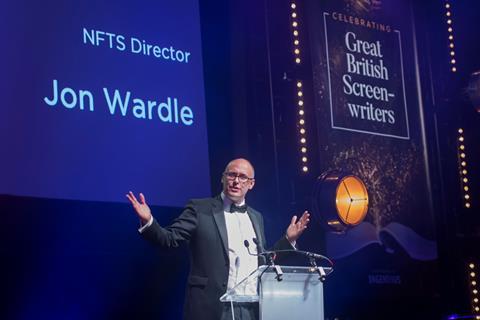 The initiative will see five of this year's graduates from the NFTS' Screenwriting MA given a grant of £10,000 ($13,000) to give them the ability to dedicate six months to writing after competing their course.
Each recipient will also be paired with a mentor to aid them with their work. Simon Beaufoy (Slumdog Millionaire) and Abi Morgan (Shame) have signed up to be mentors.
The news was announced at the annual NFTS fundraising event in London last night. (June 26). It saw more than £300,000 ($395,000) pledged to the school by industry guests including Netflix (attending for the first time), 20th Century Fox, Warner Bros, NBC Universal, Paramount, Working Title, the Walt Disney Company, Channel 4, BBC, ITV and Sky.
Top performing auction items included tickets to watch a premiere league football game in a private box with writer Nick Hornby, limited edition Quentin Blake illustrations from Matilda and The BFG, and a portrait by artist Johnny Jonas.
The gala was hosted by actor and writer Mel Giedroyc and co-chaired by producer Duncan Kenworthy and Abi Morgan.
"The NFTS Great British Screenwriter Bursary Scheme is a fantastic opportunity for our writers to take the time they need to write, re-write, hone and polish their first piece of work written after graduation," said director Jon Wardle.
"The UK film, television and games industries needs to nurture upcoming screenwriting talent if it is to continue to thrive and produce unique and creative new content," added Morgan.
"Unlike cinematographers or ADs, graduating screenwriters can't slot straight in to the production team on someone else's TV show or film. There has to be a script first, and it's down to the writer to come up with it. A script is the centre of everything, whether feature screenplay, TV series or video game, and it can take months to dream and write it," said Kenworthy.