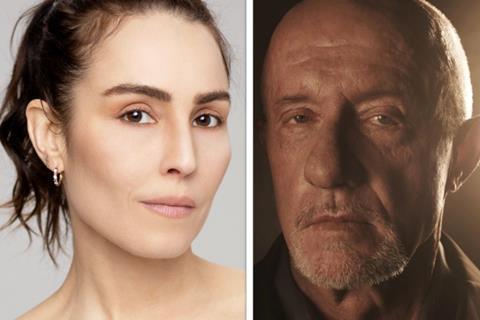 Noomi Rapace and Jonathan Banks will star for Apple TV+ in the psychological thriller series Constellation from Turbine Studios and Haut et Court TV created by The War Of The Worlds, Wallender and Doctor Who writer Peter Harness.
Michelle MacLaren, whose credits include the upcoming Apple TV+ show Shining Girls, The Morning Show and Breaking Bad, will direct the series.
Rapace, who stars in the Focus Features drama You Won't Be Alone that just went on theatrical release, will play JO, a woman who returns to Earth after a disaster in space to discover that key pieces of her life seem to be missing.
The space adventure explores the dark corners of human psychology and one woman's quest to expose the truth about the hidden history of space travel and recover all that she has lost.
Executive producers are David Tanner (Small Axe), Tracey Scoffield (Small Axe), Caroline Benjo (No Man's Land), Simon Arnal (No Man's Land), Carole Scotta (No Man's Land) and Justin Thomson (Liaison).
MacLaren is directing the first two episodes and serves as executive producer alongside her Shining Girls collaborator Rebecca Hobbs and co-executive producer Jahan Lopes for MacLaren Entertainment. Harness is another executive producers through Haunted Barn Ltd.
Constellation marks the third series collaboration for Apple TV+ and MacLaren, who served as director and executive producer on Shining Girls and The Morning Show.