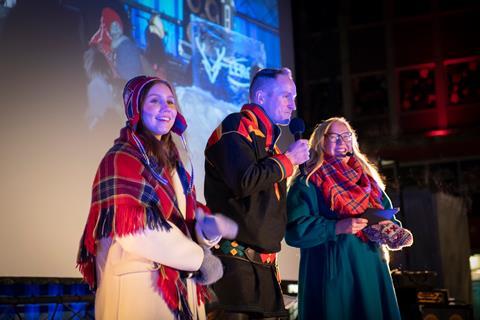 New projects from Norwegian filmmakers were showcased to US and European executives at the third edition of Fiction Norway, an invitation-only market running as part of the Tromso International Film Festival (TIFF), with support from the Norwegian Film Institute.
Reps from Netflix, XYZ, CAA Media Finance, Wild Bunch International, Globalgate, wiip, and North Road among others were in town to talk about projects that ranged from an environmentally-minded youth TV series to a natural disaster action feature.
One success story from the inaugural Fiction Norway event in 2020, Kjersti Helen Rasmussen's genre title The Nightmare, sold by Wild Bunch, premiered at Fantastic Fest 2022 before screening in Sitges and the BFI London Film Festival. It had a buzzy sold-out Norwegian premiere in Tromso and will next head to Goteborg.
Fiction Norway was just one industry-related event at the festival held in the Norweign Arctic town of Tromso from January 16-23. Other activities included the North Pitch of projects from across the Arctic region and a presentation of upcoming titles from the International Sami Film Institute. These included Netflix's first Sami feature Stolen directed by Elle Márjá Eira, Egil Pedersen's debut feature My Dad Is A Danish Caveman; and the NRK-backed series The Wedding Party – A Countdown to Disaster, created by Åse Katrin Vuolab and produced by Mer Film.
The North Pitch, presenting upcoming projects from the Arctic regions and about life and conditions north of the Arctic Circle or in Antarctic regions, presented two awards – the Arctic Documentary Award to The River Speaks , a Finland-US collaboration directed by Inga-Wiktoria Påve and Bob Cohe, and the Below Zero award to The Solitary Road by Swedish director Johan Palmgren.
"Part of our strategy is to work more with the industry – and to welcome the international community - and to connect more with the national industry in Norway," said festival director Lisa Hoen. "We want to be more important for the Norwegian film industry to launch their films here, so we need to welcome international press and international industry."
She predicted ticket sales will be close to pre-pandemic levels, making Tromso, which celebrated its 33rd edition, the largest film festival in Norway. "The audience seems to be back. A lot of people travelled to the festival and we've seen groups of international visitors come back as well.. What's most important is the audience and giving the filmmakers a chance to meet the audience."
Sami film boom
The festival opened with the world premiere of Ole Giaver's Let The River Flow, produced by Mer Film's Maria Ekerhovd, about a young woman who joins Sami rights protests in the 1970s. It was just one of a number of Sami projects screening at the festival/ Tromso also built a traditional lavvu (tent) to host the Arran 360 installation of six specially commissioned short films, which first premiered at Venice.
"We have been screening Sami films for many years as part of our Films from the North programme for films from the Arctic region," Hoen said. "We've seen many short films and some documentaries, and what we see now are a new wave of indigenous and Sami features, with even bigger productions coming up. It's a new wave of Sami directors. We'd already seen this indigenous wave in Canada and now it's strong in the Nordics thanks to the work of Anne Lajla Utsi and Liisa Holmberg at the International Sami Film Institute."
Hoen, who has Sami heritage herself, says it is increasingly important to screen Sami-langauge films throughout the festival, including in the town square's free outdoor cinema. "This is the biggest Sami city in Norway, but still there can be racism," she said. "That's why it's important for me to have these Sami-language films right there in the street in a public space."
The festival also offered a strand programmed by 15-to-19-year-old curators; a programme devoted to films from the former Soviet republics; a focus on the Arab world; and a retrospective looking at Patricia Highsmith adaptations.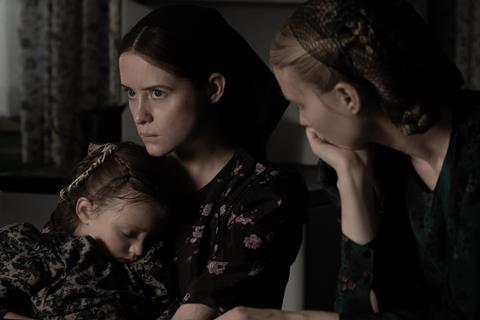 Tromso International Film Festival 2023 winners
The Aurora Prize: Women Talking, dir Sarah Polley (US)
The Don Quixote Prize, presented by FICC/IFFS: The Blue Caftan, dir Maryam Touzani (Fr-Mor-Bel-Den)
The Tromso Palm for Films From The North: Unborn Biru, dir Elin Marakatt (Nor)
The Norwegian Peace Film Prize: Tantura, dir Alon Schwarz (Isr)
The Faith in Film award: Women Talking, dir Sarah Polley (US)
FIPRESCI award: Pacification, dir Albert Serra (Fr-Sp-Ger-Port)