EXCLUSIVE: The Boondock Saints creator Troy Duffy makes directing return.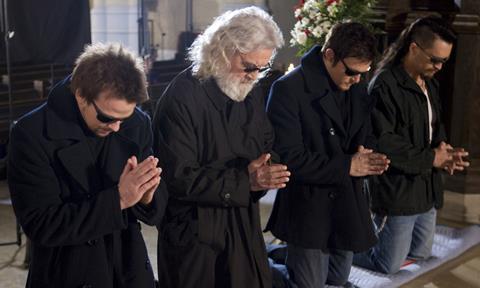 Producer Scott Clayton and his Oceanside Media has signed on to produce and fully finance The Blood Spoon Council, Troy Duffy's return to the director's chair since The Boondock Saints II: All Saints Day in 2009.
The psychological thriller centres on the eponymous vigilante group that hunts down and executes serial killers in the US.
When the FBI commissions a rogue profiler to get inside the head of the group's elusive leader, the investigation is derailed when the whizzkid engages in a game of cat-and-mouse with a formidable mastermind.
Duffy directed 2009's The Boondock Saints II: All Saints Day (pictured), the sequel to his 1999 crime thriller The Boondock Saints.
In addition to Blood Spoon, the filmmaker has several projects in development including action feature Rock 'Em Sock 'Em and comedy Black Ghost, which he is writing in collaboration with Cedrick The Entertainer.
On the television side, Duffy is currently partnered with Don Carmody of DCTV to create a Boondock Saints reboot called The Boondock Saints: Origins.
"Troy has built an incredibly strong and loyal fan base following The Boondock Saints," Clayton said. "Fans of his cult classic, both old and new, are in for a special treat with his latest film project, The Blood Spoon Council.
"He brings back the same raw, unforgiving action tangled with the kinetic storytelling that audiences know and love to his new film. With his extraordinary cinematic vision, Troy is poised to make an impactful resurgence in the industry."
Duffy said: "I want to create an action packed psychological thriller with Blood Spoon and I have held nothing back. All the killers and their crimes are inspired by actual serial cases. The mastermind of the Council is a one-of-a-kind character that will take a one-of-a-kind talent to portray him.
"The Blood Spoon Council may be dark but it is darkly beautiful, darkly exciting and it satisfies that devilish curiosity many of us have about serial killers and the uniquely gifted individuals who pursue them."
Oceanside recently announced it is producing and fully financing the action adventure One In The Chamber from David Gordon Green, directed by Darius Shahmir, and The Claim written by Damien Chazelle, to be produced alongside Route One Entertainment.