1930s theatre crumbles into the street after scaffolding gives way.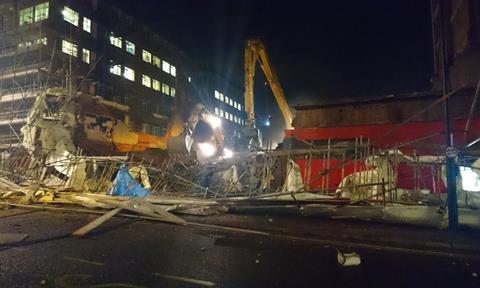 An old Odeon cinema in Newcastle city centre collapsed last night.
The 1930s-built building on Pilgrim Street, which closed in 2002 and is being demolished, crumbled into the streets late Monday night (3 April). Twitter user @exitdave captured the scene [pictured].
Large sections of the scaffolding appear to have been brought down. It is not clear yet what caused the collapse.
According to the Newcastle Chronicle, eyewitnesses said around ten people were stood at bus stops on the street when the building went down, but it is not believed anyone was hurt in the incident.
The collapse was caught on video by staff at Ampersand Inventions, whose offices overlook the demolition site. They posted the footage on Twitter.
The cinema has stood empty for 14 years and is being replaced with a retail hub.