Odeon executive Peter Waugh was among industry to discuss customer outreach and booking fees at UKCA 'Data Day'.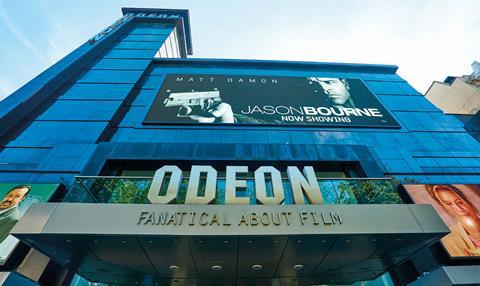 Odeon is among exhibitors prioritising the customer experience, industry heard this week (Feb 28) at the UK Cinema Association 'Data Day' in London.
Peter Waugh, Odeon & UCI Cinemas head of digital and customer relationship management, described how the company is harnessing data to better understand its customers.
He said that since joining Odeon 18 months ago, he had focused on "pivoting" the company's strategy "from a film-centric to guest-centric" approach.
"We want to get to what the guests want, that's the start point," he commented.
Waugh pointed to the company's 2015 decision to scrap its online booking fee as a positive move that has helped to generate customer data (by encouraging online bookings) at minimal cost, with any shortfall made up by a "slight increase in percentage of guests who book online".
"It was definitely worthwhile," he concluded.
Speaking on the same panel, Keith Pullinger, CEO at boutique cinema chain Light Cinemas, said that his chain charged customers less if they booked online in advance: "They're giving us their money upfront so let's reward them for that, the important trade-off is that we ask them to sign up so we have their details."
In a Q&A following the session, one audience member pointed to UK exhibitors' poor app ratings in the Apple store as an example that exhibitors are not doing enough to modernise their digital offering.
Panel host Tanya Easterman of cross-industry group Cinema First sympathised with the suggestion, claiming that in China 90% of cinema tickets are booked online compared to only 20% in the UK.
Waugh admitted that large exhibitors still face a trust challenge when it came to gathering data.
"75% of the UK population don't trust us with data," he noted, adding that "tightening privacy laws were coming soon".
He pointed to the European Parliament's General Data Protection Regulation (GDPR), which has been designed to strengthen data protection for individuals and is currently in a transitional adoption period but will be firmly enforced from May 25, 2018.
"[GDPR] is not a legal hurdle but a way to gain trust with customers," noted Eva-Marie Muller-Stuler from professional services firm Alvarez and Marsal.
In closing Easterman emphasised the need for cinema operators to embrace data. She pointed to a claim from a session earlier in the day in which analyst Dimitrios Mitsinikos from Gower Street Analytics suggested that "by using analytics [more effectively] we could increase the size of the UK theatrical market by 4-8%".