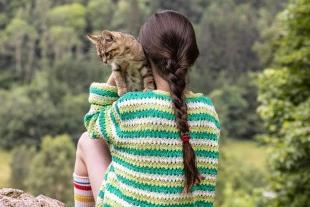 Orange Studio has sealed a raft of deals at the European Film Market on the French-language, live-action family film A Cat's Life, following the adventures of a city kitten when he heads to the countryside for the summer holidays with his young owner.
It has sold to Germany and Austria (Capelight Pictures), Italy (Koch Media), Japan (Gaga), ex-Yugoslavia (MCF), Poland (M2 Films), Czech Republic and Slovakia (Cinemart), Taiwan and airlines (Eagle International). Sun Distribution Group has taken rights for Latin America, Spain and Portugal.
Orange Studio head of world sales Charlotte Boucon is also in advanced sales for Benelux and Russia.
Adapted from the classic novel by late French writer Maurice Genevoix, the film revolves around a kitten called Rroû and his young owner Clemence.
The film is the debut fiction feature of Guillaume Maïdatchevsky after his hit wildlife documentary A Reindeer's Journey, which followed a young reindeer called Aïlo makes the perilous trip across Lapland with its mother.
Currently shooting on location in the picturesque Vosges area of eastern France, A Cat's Life stars Corinne Masiero and child actress Capucine Sainson-Fabresse (Little Nicholas' Treasure).
The film is produced by Jean-Pierre Bailly, head of wildlife documentary specialist MC4 film company, which is a subsidiary of Gedeon Media Group, and Stéphane Millière, president of Gedeon Media Group and Biloba Films.
Orange Studio, the film and TV arm of French telecoms giant Orange, is on board as a co-producer and holds all sales rights to the film, across theatrical, VoD and international.
Canal+ and Ciné+ have pre-bought the film. Orange Studio will release the film in France via distribution partner UGC in early 2023.