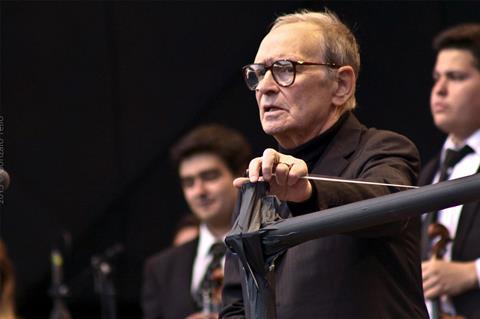 Prolific composer Ennio Morricone, whose credits include Sergio Leone's spaghetti westerns, Cinema Paradiso and The Hateful Eight, has died aged 91.
Italian news agency ANSA reported today (July 6) that Morricone had broken his femur some days ago and died during the night in a clinic in Rome.
Morricone composed more than 400 film and TV scores. His most famous work includes the iconic soundtrack to The Good, The Bad And The Ugly, Roland Joffe's The Mission, Terrence Malick's Days Of Heaven and Brian De Palma's The Untouchables.
He was awarded an honorary Academy Award in 2007, but didn't win his first competitive Oscar until 2016 for Quentin Tarantino's The Hateful Eight.
He earned six Oscar nominations in all, alongside six Baftas, three Golden Globes and ten of Italy's David awards.