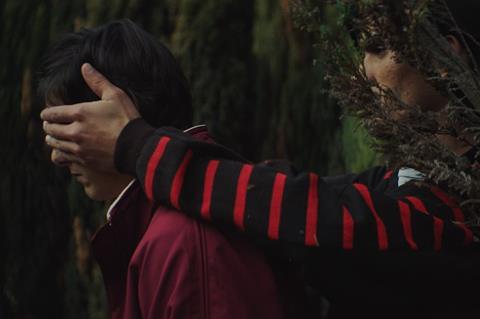 Entries for the 2022 Oscar for best international feature are underway, and Screen is profiling each one on this page.
Scroll down for profiles of each Oscar entry
Submissions from Cambodia, Ecuador, Morocco, Poland and Switzerland have been announced so far.
The 94th Academy Awards will take place on March 27, 2022 at the Dolby Theatre in Los Angeles. This is the first time since 2018 that the ceremony will take place in March, having moved to avoid conflicting with the Winter Olympics.
An international feature film is defined as a feature-length motion picture produced outside the US with a predominantly non-English dialogue track and can include animated and documentary features.
Submitted films must have been released theatrically in their respective countries between January 1, 2021 and December 31, 2021.
The deadline for submissions to the Academy is November 1, 2021. A shortlist of 15 finalists is scheduled to be announced on December 21, with the final five nominees announced on February 8, 2022.
The 2021 awards saw 93 submissions, with nominations for Bosnia and Herzegovina's Quo Vadis, Aida?, Hong Kong's Better Days, Romania's Collective, Tunisia's The Man Who Sold His Skin and eventual winner Another Round from Denmark.
Latest submissions
Germany: I'm Your Man (Maria Schrader)
Read the full article here. Schrader's film is her first to represent Germany and premiered in Berlin where Maren Eggert won the best actor Silver Bear for playing a scientist who agrees to live with a humanoid robot in order to fund her research. Germany's last Oscar nominee was Florian Henckel von Donnersmarck's Never Look Away in 2019. Fatih Akin's In The Fade made the shortlist in 2017 ahead of the awards in 2018 and Maren Ade's Toni Erdmann earned a nomination in 2017. The last time Germany won the Oscar was in 2007 with Donnersmarck's The Lives Of Others. German films have won the Academy Award on two other occasions: Volker Schlondorff's The Tin Drum in 1980 and Caroline Link's Nowhere In Africa in 2003.
Africa
Ayouch is Morocco's Oscar veteran, representing his country for the fifth time from only 17 total entries. His titles are yet to make the longlist; the only one of Morocco's to have reached the shortlisting stage was Roschdy Zem's Omar Killed Me, for the 2012 awards. Cannes Competition title Casablanca Beats may represent the country's best chance of progressing to date; it follows a former rapper, employed in a cultural centre, who frees his students from the weight of traditions and allows them to express themselves.
Americas
Ecuador: Submersible (Alfredo Leon Leon)
The crew of a narco submersible has to take desperate measures or else they'll sink with their precious cargo. Submersible is Leon Leon's second feature, after 2013's Open Wound. It debuted at Bucheon International Fantastic Film Festival in July 2020. This is Ecuador's 10th international feature entry since a first in 2001; none of the previous nine have reached the longlist stage.
Asia
Cambodia: White Building (Kavich Neang)
Neang's feature debut has its world premiere in the Horizons section of Venice Film Festival. It follows a 20-year-old man and his friends in a landmark tenement housing block in the Cambodian capital, who harbor dreams of dancing on television talent contests. Screen revealed the first trailer for the film, here. This is Cambodia's 10th international feature entry, missing just one year since 2013; three of them have been directed by Rithy Panh, including the country's only nomination, for The Missing Picture in 2014.
Europe
Kosovo: Hive (Blerta Basholli)
Kosovo's nascent film industry continues to grow, with its eighth Oscar entry - all consecutively, since the 2015 awards - having premiered in the World Cinema Dramatic Competition at Sundance in January 2021. Basholli's debut feature centres a woman whose husband has been missing since the Kosovan war, leaving her to set up her own business to provide for her children. With a small but expanding pool of film professionals, collaboration is key in Kosovo - Basholli was first AD on Norika Sefa's festival title Looking For Venera. Kosovo is yet to receive a shortlist spot or nomination from its seven previous entries - this may represent its best hope yet. LevelK represents sales, with Kino Lorber having acquired US rights.
Poland: Leave No Traces (Jan P. Matuszynski)
In early 1980s Poland, when the country is shaken by the fatal beating of a high school student by militia, the only witness becomes the primary enemy of the State overnight. Leave No Traces is Matuszynski's third feature film after documentary Deep Love and drama The Last Family. It debuted in the Competition section at Venice Film Festival 2021. After a 26-year dry spell with no nominations, Poland has recently resurrected its Oscar success of the 1960s and 70s, securing five nominations since 2008, winning once with Pawel Pawlikowski's Ida in 2015. This is the country's 53rd entry overall, with 12 total nominations to date and Pawlikowski's being the only win.
Serbia: Oasis (Ivan Ikic)
In Oasis, real people play fictionalised versions of themselves, depicting a love triangle set in a facility for intellectually disabled youth. The film premiered in Giornate degli Autori at Venice 2020; it is Ikic's second feature film after 2014 Karlovy Vary entry Barbarians. As Serbia's Oscar representative it will aim to break one of the longest winless runs in the section, with no nominations from 27 previous entries dating back to the 1995 awards. The closest the country has come was in 2008, when Srdan Golubovic's The Trap made the shortlist. Heretic Outreach represents sales.
Switzerland: Olga (Elie Grappe)
Switzerland has twice won the international feature award, although not since Xavier Koller's Journey of Hope in 1991; Richard Dembo's Dangerous Moves was its other win, in 1985. It has not received a nomination since then either, with three prior to Dembo's victory. Grappe's debut feature is a sports drama about a 15-year-old Ukranian gymnast exiled in Switzerland, who is working to secure a place at the country's National Sports Center. It debuted at Critics' Week at Cannes 2021, winning the partner award given by French authors organisation SACD.