Know Your International English-Speaking Markets panel talked on wide-ranging topics including VoD and the recent success of genre films.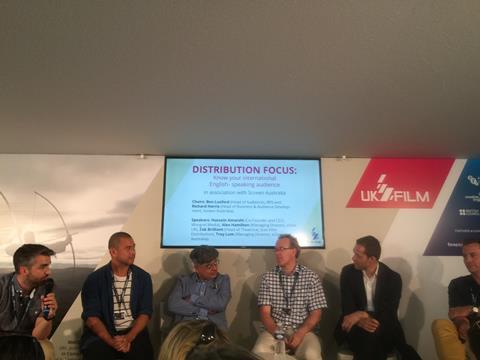 Ben Luxford, Head of Audiences BFI, led the panel – Know Your International English-Speaking Markets – today at the UK Pavilion, in association with Screen Australia.
Joining him were Richard Harris (Head of Business and Audience Development, Screen Australia); Hussain Amarshi (Co-Founder and CEO Mongrel Media); Alex Hamilton (Managing Director eOne UK); Zak Brilliant (Head of Theatrical, Icon Film Distribution) and Troy Lum (Managing Director eOne Australia).
Hamilton reminded that in the UK - the theatrical window is still critical for the value down the line, but that it's a difficult marketplace, where the polarisation of audiences happens more in the theatrical window than anywhere else.
The VOD market wasn't proving much easier either.
"The VOD market is difficult to gage – with a lot of the figures still not getting shared," Hamilton added. "What we can tell is family films are very popular on subscription services, whereas horror not as much."
Icon's Brilliant gave credence to genre titles, referencing It Follows and The Babadook as successes for the company.
"Both films were instant critical hits when debuting at the festivals (Cannes and Sundance respectively), which helped us imagine how the campaigns could work in the UK.
"It's an interesting point as well that below-the-line talent can bring added value to a project – plus they relieve some of the pressure from the P&A," added Brilliant.
Hamilton laughed off eOne UK selling the rights of The Babadook to Icon, but said they are not looking to have a Fox Searchlight arm. "We aren't looking for the next Let the Right One In – we are looking for new types of material."
Australia's Lum brought a more hardened view of the independent film market for Australia, stating "the middle ground has fallen out of the marketplace."
Referencing films with budgets around £2m-£5m, he furthered, "there's a lack of respect for the audience from the studios, so it means there's a whole audience that isn't getting served.
"This has also coincided with the boost in television drama. So those two things happening at the same time means that the audience is getting served by television, and not by Iron Man 7, or the like."
Hamilton agreed with the challenge in dating their slate, noting that while you can reference other theatrical release dates, you can't find out when a show like Game of Thrones will premiere on Sky.
Amarshi said however, "the real visionary films always find a way of making it into the marketplace," further adding Canada has seen a steady market for independent film.
"There's more people watching films than ever before, the consumption of film has gone up considerably."