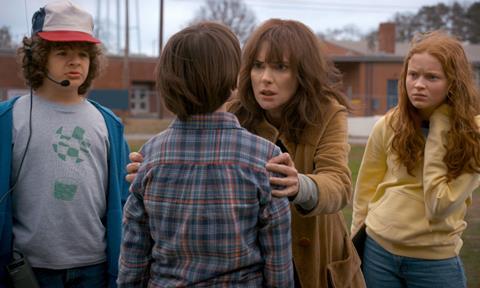 Audience demand for the latest seasons of Netflix shows in the US declines more markedly in the second week for comdies and shorter shows, according to a binge watching study by Parrot Analytics.
Research by the Los Angeles-based data science firm revealed demand for the recent Season Two of Stranger Things dropped around 17% the week after Netflix uploaded the entire season.
A fractionally lower decline befell the fifth season of House Of Cards, which Parrot attributes to longer viewing time required to consume the show given its size – 13 50-minute episodes comprising 650 minutes compared to the 450-minute season of Stranger Things 2.
Stranger Things remains Netflix's marquee new release after Season Two dropped on October 27 and caused a spike in demand over the weekends of October 28-29 and November 4-5.
Parrot looked at the decline in demand for other Netflix shows in the week after a new season dropped. The latest season of Orange Is The New Black declined by 33%, Unbreakable Kimmy Schmidt by 39% and Bojack Horseman by around 50%.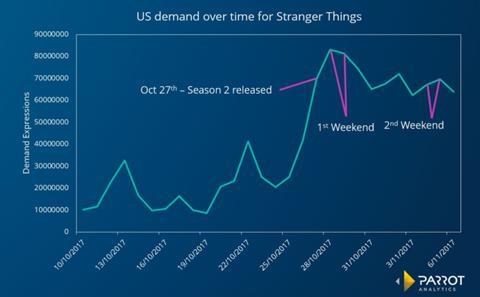 Parrot said the decline in demand did not indicate a show's overall popularity and was scaled to reflect demand over a compressed timeline. Orange Is The New Black also comes in at 650 minutes yet it declined more precipitously than House Of Cards because, Parrot said, it is a comedy drama and lends itself to quicker viewing than a straight drama.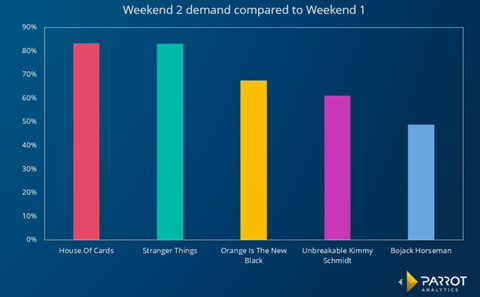 Outright comedies like Unbreakable Kimmy Schmidt and Bojack Horseman are even easier to consume, hence the highest drop-offs.
Parrot Analytics measures Demand Expressions, a proprietary metric that gauges total audience demand expressed for a title within a market. Audience demand reflects the desire, engagement and viewership, weighted by importance; so a stream or download is a higher expression of demand than a 'like' or comment.