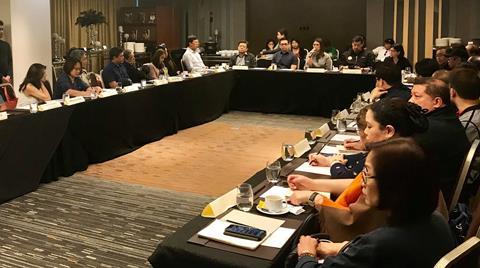 The Film Development Council of the Philippines (FDCP) has introduced a set of guidelines for theatrical releasing that includes moving opening days from Wednesdays to Fridays and keeping films in cinemas for a minimum of one week.
The new policies, which apply to both local and foreign films, also guarantee theatre assignments for the first three days of release, to prevent screen counts being reduced during opening weekends.
The Memorandum Circular (MC) issued by the FDCP also states that "full screens" must be assigned to films during the first three days, so there will be no "screen splitting" or double bookings on a single theatre screen.
It also has a requirement that "equitable ratio between Filipino films and foreign films should be observed in regular playdates to give local films a higher chance of being seen by the audience", but doesn't specify how much screen time should be given to local films.
Other guidelines include a theatrical window of 150 days before films can be screened on ancillary platforms and the introduction of cheaper tickets for students. On Wednesdays, tickets for students aged 18 years and below will be set at $3.90 (PHP200) in the capital of Manila and $2.90 (PHP150) in the provinces.
"This is the culmination of FDCP's efforts to strengthen our industry practices and level the playing field for all our stakeholders – from film producers, to distributors, to our exhibitors, and even the audience – through a transparent and fair set of guidelines that addresses the gaps that have long plagued our industry when it comes to screening films in commercial theatres," said FDCP chairperson Liza Diño.
The MC has been introduced following consultations between the FDCP and industry players and has the support of government agencies including the Department of the Interior and Local Government (DILG), Movie and Television Review and Classification Board (MTRCB), Department of Trade and Industry-Export Management Bureau (DTI-EMB) and the Office of the Presidential Legal Counsel and Spokesperson.
Although the Philippines has one of Asia's fastest growing economies, the country's exhibition sector has not seen the rapid development of other Asian territories such as Thailand, Malaysia and Indonesia.
Among other issues the industry faces, if films don't perform well on the first day of a mid-week release, they are often pulled from cinemas before they have a chance to play at weekends. In addition, local broadcasters are streaming films for a fraction of the cost of cinema tickets just a few weeks after theatrical release.
The FDCP guidelines are scheduled to take effect in mid-July.