Andrea Nevins' documentary about Tony Gonzalez and his older brother Chris will world premiere on April 15.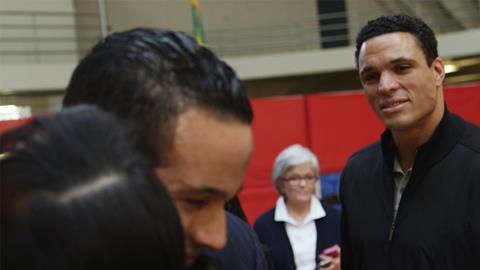 Play It Forward will receive its world premiere as the opening film of this year's Tribeca/ESPN Sports Film Festival.
Andrea Nevins' documentary looks at the sibling dynamic between Kansas City Chiefs and Atlanta Falcons tight end Tony Gonzalez and his older brother Chris, whose own football dreams were never realised. It is produced by Cristan Reilly and executive produced by Michael Strahan and Constance Schwartz.
Genna Terranova, Tribeca Film Festival director, commented: "Play It Forward displays the competitive drive of two brothers, while expressing endless support for the other as they strive to achieve greatness their own way. The Tribeca/ESPN Sports Film Festival has always sought to showcase compelling and unique stories of competition, challenges and the passionate pursuits of glory."
This year's Tribeca/ESPN Sports Film Festival will run from April 15-26 as part of the Tribeca Film Festival, and will also encompass Sports Day at the annual Tribeca Family Festival Street Fair.
Screening exclusively in front of all the festival's films will be one of two short films in the Marvel Entertainment and ESPN Film collaboration, 1 of 1: Origins. Each short from the series focuses on a single athlete and explores the moment they came to understand the origin of their powers.
"There is no shortage of fascinating stories from the world of sports and we're proud to have two new 30 for 30 films, Angry Sky and Down in the Valley, featured in the festival this year," added Dan Silver, ESPN Films' senior director of development.
For the full lineup, visit the festival's website.