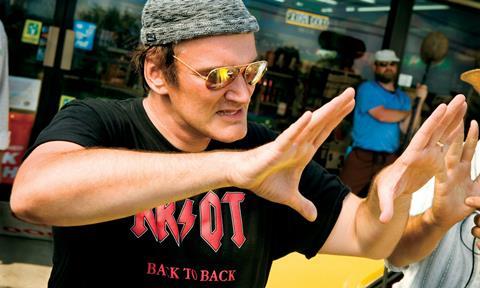 Quentin Tarantino, Harvey Weinstein's closest director collaborator for decades, has admitted he heard stories about alleged misconduct and did nothing.
"I knew enough to do more than I did," Tarantino told The New York Times on Thursday. "There was more to it than just the normal rumors, the normal gossip. It wasn't secondhand. I knew he did a couple of these things."
The filmmaker, whose working relationship with Weinstein stretches back 25 years to Reservoir Dogs during the Miramax years and includes Pulp Fiction, Kill Bill Vol. 1 and Vol. 2 all the way through Inglourious Basterds and his most recent film The Hateful Eight with The Weinstein Company, said he had heard about Weinstein's behavior for many years before the recent exposés in the Times and The New Yorker.
In fact Tarantino was dating Weinstein accuser and actress Mira Sorvino when she told him the producer and executive had previously harassed her. He told the news outlet he was shocked when Sorvino talked to him, and yet dismissed it as an isolated incident and believed Weinstein would not interfere with the actress because he she was dating Tarantino.
The filmmaker would later hear a similar story from another actress and said he knew Rose McGowan settled out of court with Weinstein. McGowan has alleged rape. Weinstein denies any non-consensual sex with women.
"I wish I had taken responsibility for what I heard," Tarantino said. "If I had done the work I should have done then, I would have had to not work with him."
"What I did was marginalize the incidents," he continued. "Anything I say now will sound like a crappy excuse."
"I'm calling on the other guys who knew more to not be scared. Don't just give out statements. Acknowledge that there was something rotten in Denmark. Vow to do better by our sisters."
In July it emerged Tarantino was preparing a film about the Manson murders and the Weinsteins were understood to be involved. The status of that project was unclear at time of writing.