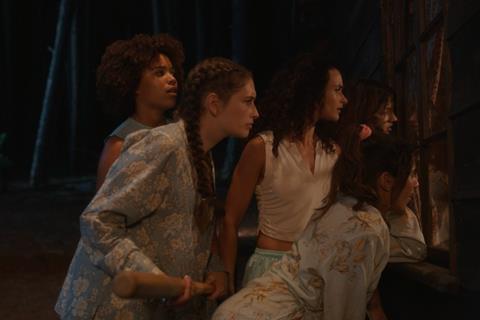 Shout! Studios has brought on Toronto genre specialist Raven Banner to handle international sales at Cannes Marché on Slumber Party Massacre, a reimagining of Roger Corman's 1982 slasher film.
The Shout! Studios and Blue Ice Pictures film takes place at a sleepover where the arrival of a power drill-wielding psychopath turns the gathering into a bloodbath.
Danishka Esterhazy directed the completed film from a screenplay by Suzanne Keilly. Hannah Gonera, Frances Sholto-Douglas, Mila Rayne, Alex McGregor, and Reze-Tiana Wessels star.
Bob Emmer, Garson Foos, Jordan Fields, and Brent Haynes are executive producers.
Raven Banner managing partners James Fler and Michael Paszt negotiated the deal with Shout! VP of acquisitions Fields, and head of new content sales Julie Dansker.