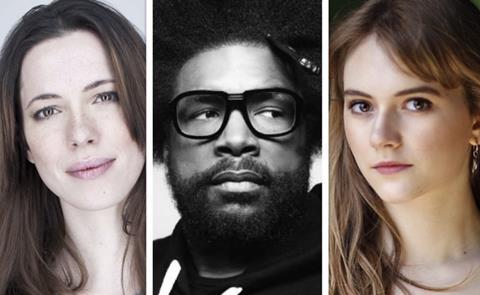 Actors and first-time directors Rebecca Hall and Robin Wright, CODA stars Marlee Matlin and Emilia Jones, and musician and filmmaker Questlove are among a Sundance 2021 programme of special events, conversations and activations.
Hall and Wright will talk on January 31 in one of several virtual Cinema Café conversations about their Sundance world premieres and feature directorial debuts Passing and Land.
The roster includes Judas And The Black Messiah director Shaka King and Ahmir "Questlove" Thompson on January 29 discussing the latter's Summer Of Soul documentary about the 1969 Harlem Cultural Festival.
Emilia Jones, who stars in CODA as the hearing teenage daughter of deaf parents who yearns to forge her own path in life, will be in conversation with First Date star Tyson Brown and Together Together star Patti Harrison.
Cinema Café highlights include Puerto Rican performer Rita Moreno (Rita Moreno: Just A Girl Who Decided To Go For It) and actor Sonia Manzano.
The line-up of events, announced on Thursday (January 14), includes a series of morning dispatches called The Sundance Dailies featuring festival director Tabitha Jackson and Sundance godfather John Cooper alongside guests such as Ed Helms from Together Together and Zoe Lister-Jones and Daryl Wein from How It Ends.
Jackson will kick off the festival on January 28 with an Opening Night Welcome events that will bring together familiar faces from the Sundance community.
Three panels fall under The Big Conversation label spanning January 29-February 1.
Barbed Wire Kisses Redux looks back at 1992, a watershed year for LGBTQ+ community and the birth of the term New Queer Cinema, and features author and journalist B. Ruby Rich with guests that include Gregg Araki and Lisa Cholodenko.
Come Together explores space with astronomy professor Janna Levin, filmmaker Scott Z. Burns, and retired NASA astronaut Leland Melvin. The Past In the Present: A Personal Journey through Race, History, and Filmmaking, features filmmaker and activist Raoul Peck and festival head Jackson.
Events include Power Of Story sessions, and a Conjuring The Collective virtual speakeasy featuring performances by womxn on January 30. CODA star Marlee Matlin and director Siân Heder are among the guests.
The festival will close with Awards night on February 2 and a look back over the five days with Jackson in It's A Wrap event on the morning of February 3.
Sundance runs mostly online and in select satellite arthouse cinemas and venues across the US from January 28-February 3.