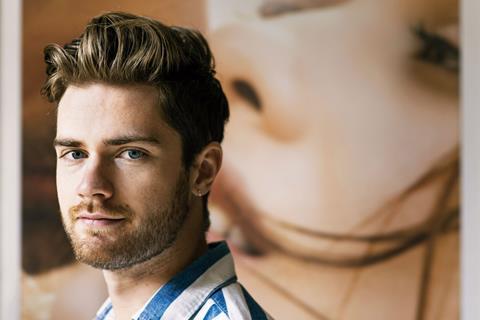 A new drama from Cannes award-winner Lukas Dhont (Girl) and a film produced in lockdown by Milo Rau are among 47 projects to be showcased at Re>Connext, the annual film and TV showcase run by Flanders Image.
The event, which serves as an export platform for film and TV drama made in Flanders, will run online from October 5-31 after the physical showcase was cancelled due to the Covid-19 pandemic.
Usually taking place over three days under the banner Connext, the virtual edition has been extended to a month and will feature 47 film projects – nearly double the number of films usually presented at the event.
The line-up includes 25 project pitches, 11 works in progress and 11 screenings. A number of TV projects – both fiction and non-fiction – will be selected and announced in the coming weeks.
Scroll down for full list of projects
Registered industry professionals will be granted on-demand access to new project pitches, presentations of works in progress, and screenings of recent, new and upcoming titles.
Projects set to be pitched include The Invisible, a new drama from director Lukas Dhont, who won the Camera d'Or at Cannes in 2018 with Girl, after first presenting the film at Connext. Details of the film remain under wraps but it will reunite Dhont with Girl co-screenwriter Angelo Tijssens and Flanders-based production company Manuet.
Milo Rau, whose documentary The New Gospel recently premiered at Venice Days, will screen his new drama Family, produced during lockdown and starring Filip Peeters, An Miller and their two daughters, based on Rau's critically acclaimed play.
Vincent Bal, whose family drama The Zigzag Kid won a European Film Award, will present Christmas-set film noir Silent Night; and Ex-Drummer director Koen Mortier will pitch dark teenage drama Skunk. Also set to be presented is The Silent Treatment, in which director Caroline Strubbe revisits characters first seen in Lost Persons Area, screened at Cannes Critics' Week 2009, and I'm The Same, I'm An Other, which debuted at Toronto in 2013.
On the documentary front, Pieter-Jan de Pue (The Land Of The Enlightened) will reveal work in progress footage from Four Brothers, about four Ukrainian siblings torn apart by war; while Eva Küpper's Dark Rider, about blind motorcycle rider Ben Felten, will be available to screen.
Also screening will be documentary What Makes Us Boys, presented as a work in progress project at last year's Connext where it secured a special mention from the jury. Directed by Janet van den Brand and Timothy Wennekes, it follows two brothers, one struggling with a rare illness and the other dealing with gender identity.
Last year's Connext reported a record number of 300 participants including festival reps from Cannes, Berlin and Toronto alongside sales agents, distributors, broadcasters and producers.
Flanders Image previously stated that it still hopes to host the fifth edition of Connext in Antwerp, Belgium from October 3-5, 2021.
Re>Connext 2020 titles
Project Pitches
2Seasons, dirs. Jan and Raf Roosens (Rococo)
Round Trip, dir. Dorothée van den Berghe (Caviar)
Bernhard, dir. Kat Steppe (Panenka NV)
The Holy Rosita, dir. Wannes Destoop (De Wereldvrede)
Dust, dir. Anke Blondé (A Private View)
For Emma, dir. Gilles Coulier (De Wereldvrede)
Fortress, dir. Jessica Woodworth (Bo Films)
Happening, dir. Jan Verheyen (Eyeworks Film & TV Drama)
Iboga, dir. Pim Algoed (Quetzalcoatl)
J'aime La Vie, dirs. Eshref Reybrouck and Mathias Sercu (Lunanime)
The Invisible, dir. Lukas Dhont (Menuet)
Making Plans For Oscar, dir. Brian Windelinckx (Polar Bear)
Marit & The Maximarket, dir. Charlie Dewulf (Potemkino)
Postcard, dir. Anthony Nti (Caviar)
Skunk, dir. Koen Mortier (Czar Film & TV)
Silent Night, dir. Vincent Bal (Eyeworks Film & TV Drama)
Strings, dir. Kadir Ferati Balci (A Private View)
The Silent Treatment, dir. Caroline Strubbe (Minds Meet)
Sea Sparkle, dir. Domien Huyghe (A Private View)
The Civilian, dir. Teodora Ana Mihai (Menuetto)
Ritual, dir. Hans Herbots (Eyeworks Film & TV Drama)
The Mercator Trail, dir. Douglas Boswell (Eyeworks Film & TV Drama)
Documentary
Marching in the Dark, dir. Kinshuk Surjan (Clin d'oeil films)
The War Inside, dir. Thom Vander Beken (Minds Meet)
Where Dreams Go To Sleep, dirs. Lennart Stuyck and Maarten Stuyck (Diplodokus)
Works in Progress
The Ghastly Brothers, dir. Michael Van Ostade (Minds Meet)
Dealer, dir. Jeroen Perceval (Savage Film)
Documentary
Katla, dirs. Dorus Masure and Ischa Clissen (Diplodokus)
Love Is Not An Orange, dir. Otilia Babara (Clin d'oeil Films)
My Paper Life, dir. Vida Mehri Dena (Clin d'oeil Films)
The Falling Sky, dir. Pieter Van Eecke (Clin d'oeil Films)
This Is My Moment, dir. Lieven Corthouts (Cassette for Timescapes)
Why We Fight, dirs. Alain Platel and Mirjam Devriendt (Cassette for Timescapes)
Yalla Baba, dir. Angie Obeid (Savage Film)
As Long As We Can, dir. Philippe Niclaes (Diplodokus)
Four Brothers, dir. Pieter-Jan de Pue (Savage Film)
Screenings
Cool Abdoul, dir. Jonas Baeckeland (Potemkino Port)
The Magnet Man, dir. Gust Van den Berghe (Minds Meet)
Family, dir. Milo Rau (Look@Leo)
Save Sandra, dirs. Lien Willaert and Jan Verheyen (Eyeworks Film & TV Drama)
Rookie, dir. Lieven Van Baelen (Czar Film & TV)
Yummy, dir. Lars Damoiseaux (A Team Productions)
Documentary
Confessions To dEUS, dir. Fleur Boonman (Savage Film)
Dark Rider, dir. Eva Küpper (Serendipity)
I Paint With Painters, dir. Jacques Servaes (Menuetto)
Parked Life, dir. Peter Triest (Savage Film)
What Makes Us Boys, dirs. Janet van den Brand and Timothy Wennekes (Diplodokus)