EXCLUSIVE: Cast rounds on Goldcrest's Liz Garbus-Galt Niederhoffer comedy.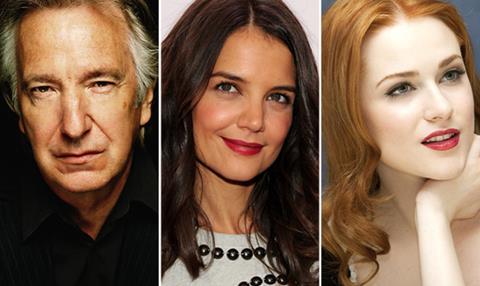 Alan Rickman, Katie Holmes, Evan Rachel Wood and Zosia Mamet have joined Liz Garbus comedy Taxonomy ahead of the EFM.
Goldcrest will be tempting buyers with the hot indie package, which is based on Galt Niederhoffer's novel A Taxonomy of Barnacles.
Holmes, Wood and Mamet will star as the New York-raised Barnacle sisters who share a gigantic apartment overlooking Central Park with their self-made and Darwin obsessed father Barry.
Rickman will play Barry Barnacle who is increasingly frustrated by the unending chaos of being surrounded by beautiful, teenage daughters and their adventures in love and life.
Robot & Frank producer Niederhoffer will produce with Amy Hobby (Secretary) for Tangerine Entertainment.
Production is due to get underway in New York this spring.
Acclaimed documentary director Garbus (Bobby Fischer Against the World) will direct Amy Lippman's (Masters of Sex) script.
Goldcrest's Nick Quested and Pascal Degove will serve as executive producers.
Goldcrest Films MD Degove said: "This film has already enjoyed an amazing reaction from distributors and to be able to announce such a stellar line up is really testament to the currency of the project."
Goldcrest continues to bolster its slate in the run in to EFM with anticipated titles including Simon West's The Blob remake and Roland Emmerich's gay rights drama Stonewall.