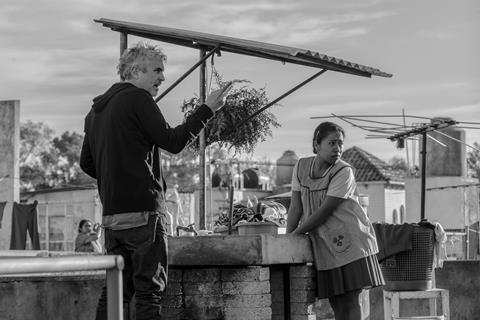 While many in the industry still believe it would be a stretch for ROMA to win the best picture Oscar later this month, the likelihood of Alfonso Cuarón claiming his second Academy Award for directing shot up after he won the feature film prize at the 71st annual DGA Awards on Saturday (2).
Cuarón can now add his secnd DGA prize for outstanding achievement to the one he earned at the directors guild's 66th annual ceremony for Gravity and he heads into the 91st Academy Awards on February 24 as the clear favourite, given that the directors guild honour is a highly reliable bellwether of Oscar success.
The Mexican auteur won the directing Oscar for Gravity inthe same season as his DGA win. Only seven times since 1948 has the DGA winner not gone on to claim the ultimate prize. The most infamous recent example was Ben Affleck, who won the DGA for Argo in 2013 yet did not earn an Oscar nod that year, when the Academy Award went to Ang Lee for Life Of Pi.
Bo Burnham claimed the first-time feature prize for his popular Eight Grade, which has blazed a happy trail through awards season for its director and young star, Elsie Fisher, while Tim Wardle won the documentary honors for Three Identical Strangers, which is not nominated for an Oscar.
In the television categories, Ben Stiller won in the TV movie / limited series contest for Escape At Dannemora, Bill Hader earned his stripes in the comedy series section for Barry, 'Chapter One: Make Your Mark', and Adam McKay was named best director in the dramatic contest for Succession, 'Celebration'.
Selected winners (click here for the full list):
Feature Film
Alfonso Cuarón, ROMA
Documentary
Tim Wardle, Three Identical Strangers
First-Time Feature Film
Bo Burnham, Eighth Grade
Movies for Television and Limited Series
Ben Stiller, Escape At Dannemora
Comedy Series
Bill Hader, Barry, 'Chapter One: Make Your Mark'
Dramatic Series
Adam McKay, Succession, 'Celebration'