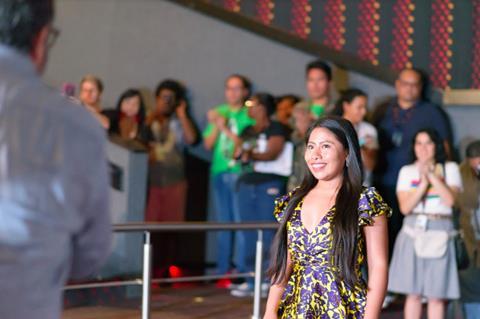 As Oscar-nominated ROMA star Yalitza Aparicio considers her next screen role, she told Latin American press in Panama at the weekend that Alfonso Cuaron's film was a life-changer that highlights the power of female solidarity.
In a wide-ranging conversation at the Panama International Film Festival (IFF Panama) on Sunday (7), the Mexican newcomer from rural Oaxaca whose star turn as a nanny in Alfonso Cuaron's acclaimed drama earned her an Academy Award nod, acknowledged the fundamental effect the film had on her.
"ROMA changed my life," Aparicio said prior to attending a festival screening of ROMA and on-stage conversation alongside production designer Eugenio Caballero. "I learned a lot and discovered the capacity within myself to do things. I felt all the time I couldn't make it – that it didn't belong to me.
"With this movie we [addressed] a lot of subjects that are fundamental for society. You can see a change in the plight of domestic workers in Mexico. The movie talked about how women support each other, for example two women from different social classes help each other to continue their lives into the future."
Aparicio was referring to the point in the film when her character Cleo, modelled on Cuaron's childhood nanny, Libo, consoles her employer Sofia (Marina de Tavira) when her husband deserts the family.
The stirring social awareness of ROMA struck a chord with Aparicio, who won the role after she responded to an open casting call just as she was about to qualify as a teacher.
"[T]here's more consciousness in Mexico about domestic workers… little by little," Aparicio said. Asked whether governments should do more to uphold the rights of domestic workers and all ethnic minorities, she said it was the responsibility of society to protect, although self-respect was the foundation. "Most of the time we demand things of the government that we have to work on ourselves first."
That sense of self-value and the desire to highlight causes informs Aparicio's search for her next role. She said she was considering a number of projects and added, "I realise I can share this kind of subject with the rest of the world. I can see it's not only Mexican problems – there are global issues."
The conversation inevitably turned to Donald Trump, and the US president's series of disparaging remarks about Mexicans over many years, his campaign to build a wall between the US and its southern neighbour, and the hostile anti-immigration stance that exists in some quarters of the US.
"They're putting their lives at risk by looking for better opportunities," Aparicio said of refugees from central and southern America who have fled violence, economic and political hardship. "I heard some criticisms about refugees but personally I believe everyone has lived some place and moved to another to find better opportunities. You have to reflect on this: they're leaving everything, the families, to find new opportunities and sometimes we are the wall that blocks them… Our criticisms are stopping them from going further.
"There are a lot of people who share his opinion," she said of Trump's comments about Mexico and Mexicans. "I don't think it's a good idea to generalise, to say things like all Mexicans are [criminals]. It's not true because there are a lot of Mexicans who enter the US and they're real workers who help the country move forward."
On Monday Aparicio will receive the key to Panama City. "At first I didn't want it and thought who am I to receive the key to the city," she said. "After that I researched it and saw who had received this recognition and I think it's a beautiful thing, and incredible for me that they want me to receive this. I don't know what [other] people think about that but I'm happy."
IFF Panama runs until April 10.