Under strict anti-piracy measures, which included sealed bags and lock-downs on all electronic equipment, Pixar's story editor Kelsey Mann presented 30 minutes of exclusive footage and sketched images from the highly anticipated The Good Dinosaur at Rome Film Festival.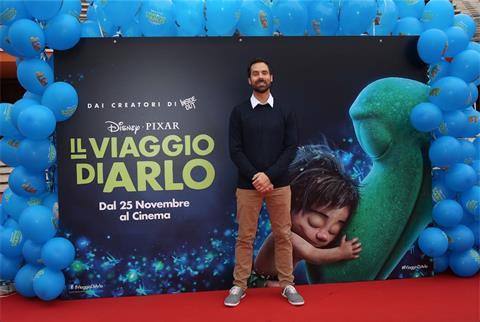 The giddy animation stalwart iterated to the packed house that several of the scenes had just been completed, with many of his colleagues still yet to see the new material.
Shown in the same narrative arc of the film - Mann introduced scenes and initial storyboard sketches with lead character Arlo (aptly a young apostaurus), along with his parents and two siblings.
Additional scenes showed the tragic circumstance that tears him away from his family, as well as the strange, vast landscape he is forced to travel on his own, where he meets characters including a spiritual stegosaurus, a quirky family of tyrannosaurus rexes and a young boy/ dog named Spot.
"Arlo's world is suddenly so big, yet he feels so small. So we, as animators, wanted to find a way to show both the dangerous and beautiful sides of his journey."
Mann reiterated Pixar doesn't make films solely for young children, believing kids tackle challenging problems, just as adults do.
"We put everything into the making of this film - into creating a bespoke world, entirely constructed by our animation team. It's a place he initially looks at in fear, and finally in wonder."
As the presentation of scenes ended, choked back sobs could be heard throughout the room; with even Mann shedding a few tears.
"I've worked on this film for so long; yet it gets me every time."
Working with director Pete Sohn
Before starting at Pixar, Mann had wanted to work with Pete Sohn from his Ratatouille and The Incredibles days. His luck transpired when they began working on Monsters University - a four year project Mann likened to film school.
"Pete is a true collaborator: he doesn't work alone. He'll look you in the eye and ask, 'What are you thinking?' He pushes you, and everyone's work gets better as a result."
Together the two helped create Pixar's 'Bullpen' - an open space where storyboard artists work around a large table, discussing and developing ideas with cintiq pen tools and the digital program Pitch Doctor.
"We wanted to create an experience combining the new and old aspects of animation - like the early days at Walt Disney where animators sat around pitching stories campfire-style."
The animation process
Both Sohn and Mann were interested in making The Good Dinosaur with a different house style.
"We want this film to be something you've never seen before. A film that has a unique tone both visually and aurally, as if you're taking a car out on a test drive for the first time."
He attested that any given scene could warrant between 300 - 1200 boards before being passed on to the editorial staff who developed the ideas into film. Every six weeks, the storyboard team would watch a rough assembly, often omitting their concepts and starting again from scratch.
Mann and his team brought on board composers Mychael Danna (Life of Pi) and Jeff Danna (The Boondock Saints), as well as sound designer Craig Berkey (No Country For Old Men), to help give nature a leading role.
"This film is quieter than other Pixar films, so sound was integral in bringing the landscape to life. We wanted nature to be a character itself: serene one moment and unpredictable the next.
"When you see lead character Arlo trying to find his way, we wanted the expansive mountain-tops and lush wilderness to feel very real. As if you were there."
A combination of 3D, stereoscopic and RealD technology were used to build Arlo's makeshift universe and surrounding characters.
Pixar
Mann concluded by giving utmost credence to Pixar's open-minded creative structuring.
"Many people say your dream job is never as good as you imagine. In my case, that was different."
He continued, "At Pixar, you quickly learn to ask the questions 'Why' and 'How can we make this different' over and over again. That is why the product is so good."