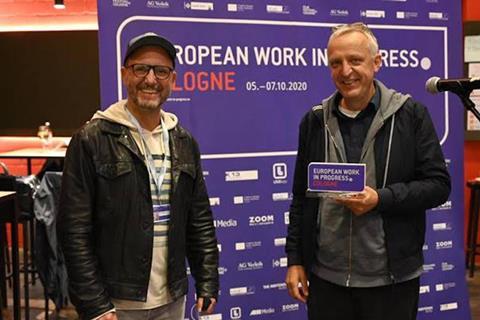 Works-in-progress projects from Russia, Serbia and Ukraine were among the winners at the third edition of European Work in Progress (EWIP), held at the Cinenova cinema in Cologne, Germany from October 5-7.
An international jury composed of Triin Tramberg (Talinn Black Nights Festival), Leslie Chen (Blossoms Entertainment), Melanie Andernach (Made In Germany Filmproduktion) and Sebastian Lückel (ARD Degeto) chose six winners from the 28 selected projects which had been pitched to sales agents and distributors on Monday and Tuesday.
ARRI Media's award of €5,000 worth of colour grading services went to Serbian director Dušan Milić's Kosovan post-war drama Darkling. The project had been presented at Trieste's When East Meets West in January 2018, and was subsequently made as a co-production between Serbia, Denmark, Italy, Greece and Bulgaria.
Two projects pitched at the connecting cottbus East-West co-production market last year were selected by the international jury for two awards on the strength of footage presented at EWIP:
A K13 Studios award of €5,000 in dubbing services went to Uzbek filmmaker Michael Borodin's feature debut Convenience Store about a young woman becoming a hostage of social and economic hardships in modern day Russia. The co-production by Artem Vasiliev's Metrafilms was made with partners from Slovenia and Turkey.
PR agency Zoom Medienfabrik's €7,500 award towards international festival PR was given to Ukrainian filmmaker Maksym Nakonechnyi's debut Spas, produced by Darya Bassel and Yeliaverta Smith's Tabor Production with co-producers from Croatia and the Czech Republic.
For the second consecutive year, this award was shared with another EWIP project: German Film & Television Academy graduate Florian Hoffmann's drama Whispers of War, produced by Chromosom Film with public broadcaster ZDF's Das kleine Fernsehspiel unit.
Düsseldorf-based Lavalabs Moving Images' award for €10,000 of visual effects work went to Anna M. Bofarull's drama Sinjar which explores the intertwined lives of three women whose lives and families were destroyed by ISIS. The Spanish/US co-production between KaBoGa and Genius at Large had been presented in various forums during its development including Berlinale Talents and Cannes' Cinéfondation.
Finally, K13 Studios' € 10,000 prize for sound mixing was awarded to Ana Cristina Barragan's Galapagos Island-set drama Octopus Skin produced by Ecuador's Caleidoscopio Cine with partners from Germany, Greece and Mexico.