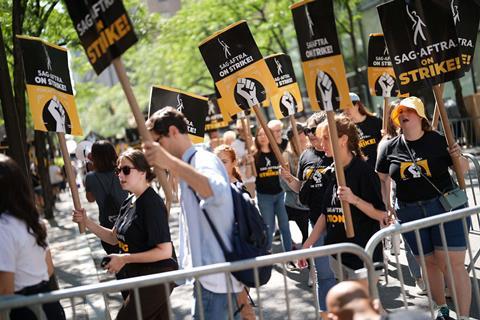 Members of US actors union SAG-AFTRA, already more than two months into their strike against Hollywood film and TV companies, have voted in favour of a strike authorisation against video game companies.
While the authorisation does not mean the union is calling another strike right away it does give SAG-AFTRA the power to call for a stoppage when talks with the game companies resume this week.
SAG-AFTRA has been negotiating with the ten signatory companies to the union's Interactive Media Agreement – among them Activision, Disney Character Voices, Electronic Arts and WB Games – since last October. Talks have dealt with many of the same issues behind the film and TV strike, including wages increases to keep pace with inflation and use of artificial intelligence. The next bargaining session will take place on Tuesday, Wednesday and Thursday this week (Sept 26, 27 and 28).
Announcing the strike authorisation vote result SAG-AFTRA president Fran Drescher said: "It's time for the video game companies to stop playing games and get serious about reaching an agreement on this contract. The result of this vote shows our membership understands the existential nature of these negotiations, and that the time is now for these companies — which are making billions of dollars and paying their CEOs lavishly — to give our performers an agreement that keeps performing in video games as a viable career."
The union's national executive director and chief negotiator Duncan Crabtree-Ireland added: "After five rounds of bargaining, it has become abundantly clear that the video game companies aren't willing to meaningfully engage on the critical issues: compensation undercut by inflation, unregulated use of AI and safety. I remain hopeful that we will be able to reach an agreement that meets members' needs, but our members are done being exploited, and if these corporations aren't willing to offer a fair deal, our next stop will be the picket lines."