Denis Villeneuve's Enemy, starring Jake Gyllenhaal, will compete as part of the official selection of the 61st San Sebastian Film Festival (Sep 20-28).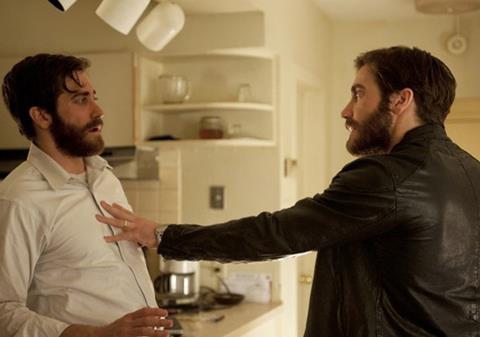 At a press conference in Madrid today, festival director José Luis Rebordinos revealed the Spanish titles that will compete for the Golden Shell. Spanish films set to feature in other sections of the festival were also revealed.
Scroll down for full lists
Villeneuve's Enemy stars Gyllenhaal as a man who seeks out his exact look-alike after spotting him in a film. The co-production between Canada (Rhombus Media) and Spain (Roxbury Pics) is Villeneuve's follow-up to the Oscar-nominated Incendies.
David Trueba (Salamina Soldiers) will introduce Vivir es Facil (Living Is Easy). Set in 1966, Javier Cámara (Talk to Her) stars as an English teacher who sets off across Spain to find John Lennon, who was taking a break from Beatlemania to feature in Richard Lester film How I Won The War.
Manuel Martín Cuenca (The Weakness of the Bolshevik) will present Caníbal (Cannibal), a thriller about a prestigious tailor who is also a murderer – but falls for one of his potential victims.
The drama, from Mod Producciones (Agora, Biutiful) stars Antonio de la Torre and is a co-production between Spain, Romania, Russia and France.
Blancanieves editor Fernando Franco makes his feature directorial debut with La herida (The Wound) about a woman with Borderline Personality Disorder who tries to find happiness.
In addition, Alex de la Iglesia's Las Brujas de Zugarramurdi is a racy comedy about a gang who aim for Disneyland after a robbery but fall into the hands of Basque witches at the French border.
The festival will pay tribute to Carmen Maura, who stars in Las Brujas de Zugarramurdi, with a Donostia Award. The Spanish actress will receive the lifetime achievement award when the film is presented.
In tough economic times for Spanish cinema, Rebordinos praised the quality of this year's selection. "Spanish cinema is rich, varied and of quality," he said.
Four young talents will compete in the New Directors section: Fran Araujo, Ernesto de Nova, Isabel Ayguavives and Aarón Fernández.
The Zabaltegi section will include a selection of feature films and documentaries produced this year.
The premiere in the Velodrome of the film by Oskar Santos, Zipi y Zape y el club de la canica (Zip & Zap and the Marble Gang), the three co-productions competing in Horizontes Latinos and a contender for the Audience Award in the Pearls section round off the presence of Spanish movies at this year's San Sebastian.
Last year, the success of tsunami drama The Impossible and Snow White-inspired Blancanieves provided a boost to the local production community after playing at the festival.
Official Selection
Las Brujas De Zugarramurdi
Alex De La Iglesia (Spain-France)
Caníbal (Cannibal)
Manuel Martín Cuenca (Spain-Romania-Russia-France)
Enemy
Denis Villeneuve (Spain-Canada)
La Herida (Wounded)
Fernando Franco (Spain)
Vivir Es Fácil
David Trueba (Spain)
New Directors
El Árbol Magnético (The Magnetic Tree)
Isabel Ayguavives (Spain-Chile)
Las Horas Muertas (The Empty Hours)
Aarón Fernández (Mexico-France-Spain)
El Rayo (Hassan's Way: El Rayo)
Fran Araújo, Ernesto De Nova (Spain)
Horizontes Latinos
La Jaula De Oro
Diego Quemada (Mexico-Spain)
Pensé Que Iba A Haber Fiesta (I Thought It Was A Party)
Victoria Galardi (Argentina-Spain)
Wakolda (Wakolda)
Lucía Puenzo (Argentina-France-Spain)
Pearls
Gloria
Sebastián Lelio (Chile-Spain)
Zabaltegi
Family Tour (Family Tour)
Liliana Torres Expósito (Spain)
Hotzanak, For Your Own Safety
Izebene Oñederra (Spain)
Mujer Conejo (Rabbit Woman)
Veronica Chen (Argentina-Spain)
El Rey de Canfranc (The King of Canfranc)
Manuel Priede González, Jose Antonio Blanco (Spain-France)
Serrat y Sabina: El Símbolo y el Cuate (Serrat & Sabina: Two For The Road)
Francesc Relea (Spain)
Sigo Siendo (Kachkaniraqmi) (I'm Still (Kachkaniraqmi))
Javier Corcuera (Peru-Spain)
Violet (Violet)
Luiso Berdejo (US-Spain)
Zela Trovke
Asier Altuna (Spain)
Velodrome
Zipi Y Zape Y El Club De La Canica (Zip & Zap And The Marble Gang)
Oskar Santos (Spain)