Six projects selected for second edition of festival industry event.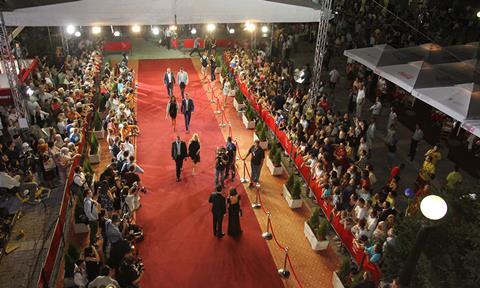 Returning in 2017, Sarajevo Film Festival's CineLink Drama strand has selected six projects for its second edition.
Showcasing television series in development, the aim of the initiative is to bolster regional TV production.
The projects will be shown to European and regional broadcasters, VoD and SVoD Operators, and will include an open pitch session followed by one-on-one meetings.
This year will also see the introduction of a new development award - a €10,000 cash prize sponsored by Film Centre Serbia.
The jury awarding the prize will consist of Meinolf Zurhorst, Tatjana Andersson and Giacomo Durzi, who will select the most promising project out of the six chosen.
Jovan Marjanović, Sarajevo's head of industry, commented: "We were excited to get so many submissions for the new drama series. The projects that have been selected promise to bring a new chapter to regional screens. The potential is obviously there, and so is the interest from the broadcasters. We want CineLink Drama to be a must-attend event for everybody in the business of quality TV drama in this region."
Boban Jevtić, general manager of Film Centre Serbia, added: "The success of last year's CineLink Drama platform at the Sarajevo Film Festival has motivated Film Centre Serbia to enthusiastically take part in the early stages of this initiative. With clear expectations for a bright future for the CineLink Drama platform, Film Centre Serbia strives to stimulate, quicken and facilitate the harmonising of any support mechanism that deal with joint production of television series in the Southeast European region."
2017 CineLink Drama projects:
All Panthers Are Pink (Svi Panteri Su Pink)
Creators: Titus Kreyenberg, Miroslav Mogorović
Writer: Dimitrije Vojnov
Director: TBC
Producers: Titus Kreyenberg, Miroslav Mogorović
Production company: Unafilm, Art & Popcorn
Germany, Serbia
Danube (Dunav)
Creators: Sandra Antolić
Writers: Sandra Antolić, Jasmina Kallay
Director: TBC
Producer: Jasmina Kallay
Production company: MaXima Film
Croatia
Burn Baby Burn
Creator: Marijana Verhoef
Writers: Marijana Verhoef, Ognjen Sviličić
Director: Dejan Zečević
Producer: Nikolina Vučetić Zečević
Production company: Biberche
Serbia
Glycerin (Glicerin)
Creators: Ivan Knežević, Miloš Pušić
Writers: Ivan Knežević, Miloš Pušić
Director: Miloš Pušić
Producers: Ivan Knežević, Miloš Pušić
Production company: Altertise
Serbia
Return to Sorento
Creator: Ann Tsitskishvili
Writer: Ann Tsitskishvili
Director: Ann Tsitskishvili
Producer: Labina Mitevska
Production company: Sisters and Brother Mitevski
Macedonia
The Last Socialist Artefact (Podrucje Bez Signala)
Creators: Ankica Jurić Tilić, Robert Perišić
Writers: Milan F. Živković, Hana Jušić, Dalibor Matanić (based on the book by Robert Perišić)
Director: Dalibor Matanić
Producers: Ankica Jurić Tilić, Milan Stojanović
Production company: Kinorama, Sense Production
Croatia, Serbia