The non-competitive strand will also feature Pablo Larrain's Neruda and Kirsten Johnson's Cameraperson.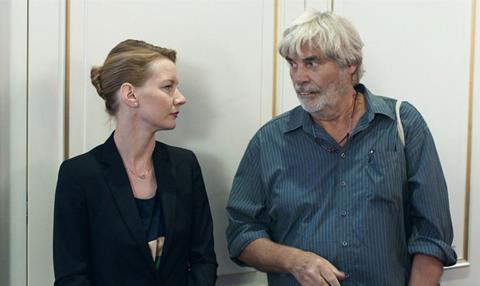 Scroll down for full line-up
This year's Sarajevo Film Festival (Aug 12-20) will feature 17 titles in its Kinoscope programme, including festival hits such as Toni Erdmann and Cameraperson
First launched in 2012, the non-competitive strand selects titles from around the world, excluding territories featured in the festival's main competition.
This year's line-up includes titles that have received plaudits at major festivals, including three Palme d'Or nominated films from this year's Cannes Film Festival: Kleber Mendonca Filho's Aquarius, Alain Guiraudie's Staying Vetical, and Maren Ade's crowd favourite Toni Erdmann, which clocked the highest ever score on Screen's Cannes Jury Grid.
Also from Cannes is Pablo Larrain's Neruda, which premiered in Directors' Fortnight, while the programme includes Kirsten Johnson's documentary Cameraperson, which recently won the top prize at Sheffield Doc/Fest.
Titles that premiered at Berlin include Ivo Ferreira's Letters From War, Johnny Ma's Old Stone and Mia Hansen-Love's Things To Come.
Kinoscope is programmed by Mike Goodridge, CEO of Protagonist Pictures, along with Alessandro Raja and Mathilde Henrot from Festival Scope.
The 2016 Kinoscope line-up
Aquarius
Brazil, France, 2016, 145 min.
Director: Kleber Mendonca Filho
As I Open My Eyes / À Peine J'ouvre Les Yeux
France, Tunisia, Belgium, United Arab Emirates, 2015, 102 min.
Director: Leyla Bouzid
Baden Baden
Belgium, France, 2016, 96 min.
Director: Rachel Lang
Cameraperson
USA, 2016, 102 min.
Director: Kirsten Johnson
Evolution
France, Belgium, Spain, 2015, 81 min.
Director: Lucile Hadžihalilović
The Fits
USA, 2015, 72 min.
Director: Anna Rose Holmer
Letters From War (Cartas Da Guerra)
Portugal, 2016, 105 min.
Director: Ivo Ferreira
Mother (Ema)
Estonia, 2016, 89 min.
Director: Kadri Kõusaar
Neon Bull (Boi Neon)
Brazil, Uruguay, Netherlands, 2015, 101 min.
Director: Gabriel Mascaro
Neruda
Chile, Spain, France,Argentina, 2016, 107 min.
Director: Pablo Larraín
Old Stone (Lao Shi)
China, Canada, 2016, 80 min.
Director: Johnny Ma
Shelley
Denmark, Sweden, 2016, 92 min.
Director: Ali Abbasi
Staying Vertical (Rester Vertical)
France, 2016, 100 min.
Director: Alain Guiraudie
Tempest (Tempestad)
Mexico, 2016, 105 min.
Director: Tatiana Huezo
Things To Come (L'Avenir)
France, Germany, 2016, 100 min.
Director: Mia Hansen-Løve
Toni Erdmann
Germany, Austria, 2016, 162 min.
Director: Maren Ade
Under The Shadow
United Kingdom, Jordan, Qatar, 2016, 84 min.
Director: Babak Anvari