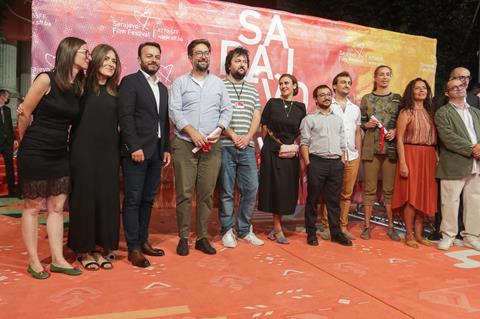 Serbia's Forget The Ocean, Why Not Try Surfing These Insane River Waves from director Marko Grba Singh was among the projects recognised by Sarajevo Film Festival's industry platform CineLink, which handed out its awards last night (August 19).
See below for the full list of winners
A reconstruction of the 1957 encounter and relationship between the director's Punjabi and Yugoslav grandparents, set in the context of the post-Brexit crisis in the UK, it took the €20,000 Eurimages co-production development award.
Singh's short If I Had It My Way I Would Never Leave played in a Serbia focus of the ACID section of Cannes in 2017, whilst his mid-length documentary Rampart debuted at Locarno this month.
It was among the 10 feature projects from Southeast Europe competing as part of CineLink's industry Days Co-Production Market, which took place a hybrid event this year from August 14-19.
Other winners included Aleksandra Odić's feature debut Vanja, which picked up the Film Center Serbia Award with a €10,000 prize. The Berlin-based filmmaker has previously had shorts selected for Cannes and Berlin.
The Film Center Montenegro Award, also worth €10,000, was won by Selman Nacar's Hesitation Wound. Nacar's feature debut Between Two Dawns was boarded by Luxbox before this year's EFM.
The €6,000 Artekino International Prize went to Ralitza Petrova's Lust. The director's feature debut Godless won the Golden Leopard and best actress prizes at the 2016 Locarno film festival.
From the work-in-progress section, winners included Aida Begić's A Ballad, taking the €25,000 TRT award. Bosnian director Begic has made four previous features, including Snow, which won the Critics' Week grand prize in 2008, and Children Of Sarajevo, which received a special distinction from the Un Certain Regard Jury in 2012, both at Cannes.
Ehab Tarabieh's The Taste Of Apples Is Red collected the Post Republic award worth €30,000, with Georgia's Tinatin Kajrishvili awarded the Cinelink Iridium award worth €20,000.
In the Docu Rough Cut Boutique section, Maja Doroteja Prelog's Cent'anni received the €20,000 (in kind) Avanpost Media award. Nikolay Stefanov's Bulgarian title No Place For You In Our Town won the €2,000 HBO Europe prize.
CineLink Co-production Market Awards
Eurimages Co-production Development Award (€20,000)
Forget The Ocean, Why Not Try Surfing These Insane River Waves (Serbia), dir. Marko Grba Singh
The Artekino International Prize (€6,000)
Lust (Bulgaria, Denmark), dir. Ralitza Petrova
Film Center Serbia Award (€10,000)
Vanja (Germany), dir. Aleksandra Odić
Film Center Montenegro Award (€10,000)
Hesitation Wound (Turkey, France), dir. Selman Nacar
Special mention
Lunatic (Slovenia), dir. Igor Šterk
Work-In Progress Awards
TRT Award (€25,000)
A Ballad (Bosnia and Herzegovina), dir. Aida Begić
Post Republic Award (€30,000)
The Taste Of Apples Is Red (Israel, Germany), dir. Ehab Tarabieh
Cinelink Iridium Award (€20,000)
Citizen Saint (Georgia), dir. Tinatin Kajrishvili
Docu Rough Cut Boutique Awards
Movies That Matter Award
No Place For You In Our Town (Bulgaria), dir. Nikolay Stefanov
Avanpost Media Award (post-production services worth €20,000)
Cent'anni (Slovenia, Poland, Italy), dir. Maja Doroteja Prelog
Cat&Docs Award (€2,000)
Bottlemen (Serbia, Slovenia), dir. Nemanja Vojinović
HBO Europe Award (€2,000)
No Place For You In Our Town (Bulgaria), dir. Nikolay Stefanov
IDFA Project Award & DOK Preview Award
Bottlemen (Serbia, Slovenia), dir: Nemanja Vojinović