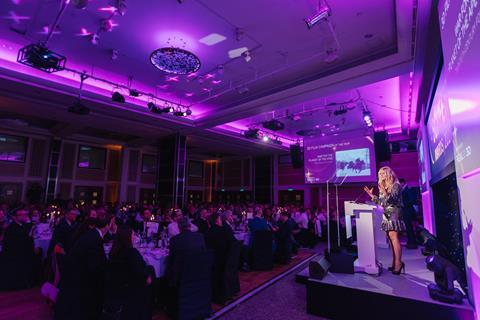 The first group of judges for this year's Screen Awards have been announced, ahead of the entry deadline on August 31.
This is the ninth year of the awards, which acknowledge the wide array of studios, companies, teams and individuals that contribute to the success of the UK film industry.
Eighteen different categories will recognise excellence in UK film distribution, exhibition, marketing, publicity and brand partnerships.
This year's ceremony will take place on November 29 at The Ballroom Southbank in London.
Last year's awards saw Altitude Film Distribution take the distributor of the year award, with Lionsgate winning theatrical campaign of the year for La La Land. Curzon Artificial Eye picked up the most awards with four, including theatrical campaign of the year – 99 sites and under for the The Handmaiden.
The first tranche of 19 judges includes executives from Amazon, Fox Searchlight, BBC Films, Film4, DDA, Premier, Bankside Films, Embankment Films and Creative Skillset, with a further 11 judges to be announced.
The judges will be divided into six groups of five, with each group judging two or three categories. All six groups will judge and vote on the prestigious Distributor of the Year award.
First group of judges
Rosie Alison, producer and head of development, Heyday Films
Matt Aspray, CEO, Motion Picture Solutions
Lawrence Atkinson, CEO, The DDA Group
Mia Bays, director at large, Birds-Eye View
Chris Bird, worldwide head of film licensing, Amazon
Phil Cairns, press & publicity manager, Film4
Caragh Cook, managing director, Organic
Caroline Cooper Charles, strategic development executive, Screen Yorkshire
Gareth Ellis-Unwin, head of film, Creative Skillset
Lawrence Francis, director, Premier
Kate Gardiner, head of Fox Searchlight UK
Calum Gray, head of sales, Embankment Films
Uzma Hasan, producer, Little House Productions
Stephen Kelliher, director and head of sales & marketing, Bankside Films
James Norrie, director of global sales and acquisitions, AMP International
Nish Panchal, literary agent, Curtis Brown
Ste Thompson, CEO and founder, Powster
Eva Yates, commissioning executive, BBC Films
Claudia Yusef, head of development, Number 9 Films